Pirates Of The Caribbean 5 Wants Maze Runner Starlet For Key Lead Role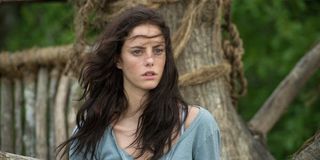 Pirates of the Caribbean 5 is making more headway on the casting front. Recent reports were showing five women in the running for a co-starring role in the next installment of the franchise, titled Pirates of the Caribbean: Dead Men Tell No Tales, but today it looks like they've made big steps forward with regards to narrowing that playing field, and are apparently in talks with Kaya Scodelario.
The Maze Runner actress Kaya Scodelario, who was of the five women already rumored for a coveted position alongside Johnny Depp's Captain Jack Sparrow, has now, according to Deadline, entered the "early talks" stage with the studio. Prior to today, she was on a list with four others, including French actress Jenna Thiam (The Returned), Lucy Boynton (Miss Potter), Game of Thrones actress Alexandra Dowling, and Gabriella Wilde (Endless Love, the 2013 remake of Carrie).
Scodelario hails from the UK, where she got her big break on the television series Skins back in 2007. She followed that up with a role in The Truth About Emanuel as well as a part in the series Southcliffe, the latter which made a decent impact with American audiences through SVOD (Subscription Video on Demand) giant Netflix. More recently she starred in The Maze Runner and will appear in its sequel Maze Runner: The Scorch Trials, arriving in 2015.
Production on Pirates of the Caribbean: Dead Men Tell No Tales started about three weeks ago in the Gold Coast Hinterland in Queensland, Australia, where much of the production will be held. It was pushed back from its original start date of mid-2013, which subsequently pushed back the film's initial 2015 release date to sometime in 2016. Then in March of last year, script issues brought the film to a stand-still, yet again, until recently that is.
As far as the film's plot goes, not too much has been revealed thus far. We do know that Brenton Thwaites has been cast in the role of British soldier Henry and Javier Bardem will play the central villain in the film, alongside Geoffrey Rush and Orlando Bloom (who will both reprise their roles from the previous films). There have also been rumors that this installment will potentially act as a franchise reboot with Bloom's character of Will Turner taking on a storyline revolving around his relationship with his son.
If Scodelario lands the role in Pirates of the Caribbean 5, she can look to her career receiving a gargantuan boost. The insanely successful Disney films have already pulled in over $3.7 billion dollars, a number that would likely make Austin Powers villain Dr. Evil's head explode, and the franchise shows no signs of letting up.
Kon Tiki's Joachim Rønning and Espen Sandberg will be directing and Jerry Bruckheimer will be producing the film, which is slated for a mid-2017 release.
Your Daily Blend of Entertainment News
Your Daily Blend of Entertainment News
Thank you for signing up to CinemaBlend. You will receive a verification email shortly.
There was a problem. Please refresh the page and try again.