Johnny Depp Looks Terrifying As Whitey Bulger In Black Mass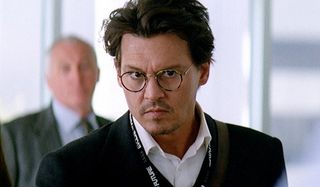 Over the years, we've seen Johnny Depp in an eclectic variety of roles across the spectrum, from a fidgety spaced-out pirate, to Goth guy with scissors for hands, to even a borderline offensive fake Native American. However, the first image and trailer (opens in new tab) has hit showing the actor in his upcoming biographically based crime drama, Black Mass, as he embraces a frighteningly cold and calculating persona as the malevolent murderous mobster, Whitey Bulger.
Coming by way of Entertainment Weekly, the debut photo from this fall's Black Mass shows an armed and angry Johnny Depp, decked out and dynamically deadly as Whitey Bulger. Clearly, the crime boss' tolerance for perceived disrespect isn't as high as his hairline and he's clearly got some malicious motives in mind that will likely splash red on that white deep-V he's sporting. For Depp, who even played John Dillinger in 2009's Public Enemies, this is certainly an unprecedented foray into a legitimately frightening persona.
The photo essentially captures imagery from the tightly-kept preview footage that was shown earlier this week at Cinema Con in Las Vegas. Initial impressions based purely on the visual may point to Depp playing some kind of badass spin of his Hunter S. Thompson-inspired role in Fear and Loathing in Las Vegas. However, Depp's approach to Bulger was a collaborative process with director, Scott Cooper involving studious research of FBI photos and footage from surveillance tapes. Based on the limited look preview in which he insanely intimidates an FBI agent over a steak recipe, Depp clearly won't be spending time being chasing by drug-induced bats. The film seems to portray the gangster as an eccentric, short-tempered tyrant that exercises dominance over people with fear tactics.
Black Mass will focus on Depp's role as Bulger, the notorious organized crime collaborator who has left behind a trail of murder and misanthropy that goes back over half a century. However, the film will take place in Boston in the 1970's, depicting the events in which the calculating criminal attempts to solve his issues with the Italian mob by becoming an informant with the FBI. While maintaining a veneer of normalcy, navigating the fact that his brother, William "Billy" Bulger (Benedict Cumberbatch) is a respected state senator, Whitey's activities in the underworld are unfathomably evil, as the short-fused sociopath uses intimidation and unpredictability to achieve his goals…and sometimes just for random kicks. However, the film does seem likely to focus on the balance of personas in Bulger's life that ultimately lead to his decades-long status as a fugitive at large.
Filling out the rest of Black Mass' phenomenal cast, Joel Edgerton plays Whitey's FBI handler, John Connolly, and Dakota Johnson plays Bulger's embattled, but nevertheless loyal wife, Lindsey Cyr. Additionally, the film will feature roles for Kevin Bacon, Juno Temple, Corey Stoll, Jesse Plemons, Peter Sarsgarrd, Julianne Nicholson and Adam Scott. The film looks to pull Johnny Depp away from his string of box-office duds, back into devastating dramatic form when it hits theaters on September 18.
Your Daily Blend of Entertainment News
Thank you for signing up to CinemaBlend. You will receive a verification email shortly.
There was a problem. Please refresh the page and try again.