Johnny Depp's Black Mass Has New Release Date, Needs A New Title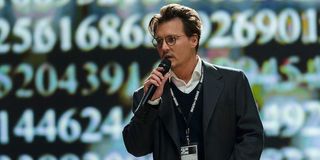 The life of the Johnny Depp drama Black Mass has been a complex one, from point of contention to, now, potential Oscar nominee. Warner Bros. has placed their Black Mass flag in the fourth quarter of 2015, and with it hopes not only for box office success but maybe even Oscar gold.
Black Mass has locked down a September 18th, 2015 release date, according to The Hollywood Reporter . The movie is based on the non-fiction tome Black Mass: Whitey Bulger, The FBI And A Devil's Deal by Dick Lehr and Gerard O'Neill. Oddly enough, the bigger surprise is that the film is no longer called Black Mass, and is in search of a new title. Which makes sense: Black Mass is a term used for something of a reverse Christian mass, used to celebrate the occult. People who know this would think the movie were about the supernatural. People who didn't would think this was just a movie about a big, black... thing, just taking up space (yes, I know that "Mass" is short for Massachusetts). Neither conveys the horrors of the crimes of Whitey Bulger, a mobster credited with nineteen deaths who eventually became an informant. It's the classic case of in-too-deep with a twist: Bulger eventually had to flee once the feds began snooping around his own criminal operation, despite promises that they wouldn't. It's a complex mess of tangled alliances.
The movie has a loaded cast. In addition to Depp (playing Bulger), the movie stars Benedict Cumberbatch, Joel Edgerton, Kevin Bacon, Adam Scott, Dakota Johnson, Juno Temple and Jesse Plemons. The cast will look even starrier next fall, after Edgerton shows up in this winter's Exodus: Gods And Kings, Johnson pops up in Fifty Shades Of Gray and Cumberbatch possibly earns an Oscar for The Imitation Game. Scott Cooper is the director in charge of wrangling these talented names. He previously directed Jeff Bridges to an Oscar with Crazy Heart but he also had a pretty massive cast with Out Of The Furnace. Even with Christian Bale, Casey Affleck, Zoe Saldana, Forest Whitaker and Woody Harrelson, that film never rose above "Moderately interesting." Hopefully that's not the case here, as Cooper is taking over from previously-announced Barry Levinson.
September 2015 is pretty light schedule-wise, so it's likely the untitled film will stick around with that slot coming right after the early wave of festivals, including the Toronto International Film Festival and the Telluride Film Festival. Prisoners used this strategy last year, and while ultimately it received limited Oscar attention, it benefited from the positive buzz to become a box office hit. This date pits The Artist Formerly Known As Black Mass against Everest 3D , which has a pretty loaded cast of its own. A week later things get a little wilder, as Hotel Transylvania 2 faces off against Nancy Meyers' The Intern and a currently untitled horror film from Blumhouse Pictures.
Your Daily Blend of Entertainment News
Thank you for signing up to CinemaBlend. You will receive a verification email shortly.
There was a problem. Please refresh the page and try again.