Johnny Depp's Career Probably Hit Rock Bottom During This Humiliating Mortdecai Scene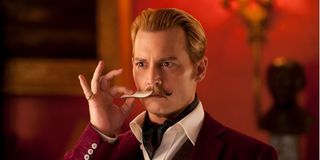 Johnny Depp used to be a guaranteed win at the box office. That's no longer the case. The truth behind his box office slump as of late isn't proof that he's a bad actor, as he's more than capable of putting in some stellar performances when under the right direction. However, his last couple of films have given him more than enough free reign, without the restraint that refines his performances into the more watchable gems of the past. This phenomenon has come to a head with Depp's latest box office failure, the insta-fail known as Mortdecai, and there's one scene in the whole film that makes it painfully obvious. This, for Depp, marks rock bottom.
In Mortdecai, the titular character is tasked with recovering a stolen painting that is also the target of an infamous terrorist. Once in his possession, the terrorist is planning to sell the painting and use the funds to enrich his terrorist activities. This plot line reaches its dramatic climax at the auction of the painting, in which several interested parties bid on the purloined work of art. All the while, Lord Mortdecai is trying to steal the real painting and swap it with a fake, both of which are painted over with a ridiculous portrait that Mortdecai himself is obsessed with. This results in the worst scene in the entire film, a swordsman's duel between Lord Mortdecai and his terrorist nemesis.
So how is this the worst scene in a film where sympathetic gag reflexes, hatred of mustaches, and Paul Bettany's sexual prowess are all fair game? Perhaps you should watch this clip from Pirates Of The Caribbean: Curse Of The Black Pearl.
Now as evidenced in all four Pirates Of The Caribbean films, Johnny Depp is quite an adept swordsman. He's practiced through four films worth of them, and even the first time out in the clip above, he was really damned nimble with a blade. For a while, riding at his highest, Captain Jack Sparrow was the ideal Johnny Depp role that we all came to know and love. Yet in Mortdecai, Depp plays a much more inferior variant of the same character. While Lord Charlie Mortdecai also seems to know his way with a blade, and always has a crazy plan in mind, he lacks the one thing Captain Jack always seemed to have in spades: confidence.
It hit me, during this turgid fight scene. Take away the self-assured nature that Captain Jack possesses, have him consistently crumple under pressure (and his wife's will), and you've got Lord Charlie Mortdecai. The sword fight scene from Mortdecai is a sad reminder of how far Johnny Depp's star has fallen, and it's not a pretty sight. It's as if that first sword fight from Pirates of The Caribbean: Curse Of The Black Pearl was drained of all heroism and dramatic stakes, and replaced with half-baked comedy. What's worse, Mortdecai lacks an intriguing central character, as Depp's comedic exaggerations are so overblown that the character cannot be taken seriously or identified with in the least. At least with Captain Jack Sparrow, you could root for him to succeed and take his adventures with the weight and gravity they deserved.
Mortdecai is a real dog of a film. It takes two hours to get nowhere, and it does so in the most excruciating way possible. Part of that is Johnny Depp's fault, and there's no way around that fact. However, this doesn't mean he's incapable of putting out quality work, and we're still praying for his career to rebound. If anything, Depp has fallen prey to some horrible directing and script choices by those behind films such as Transcendence, The Tourist, and Pirates Of The Caribbean: On Stranger Tides. If Johnny Depp wants to revitalize his career, it's best he probably step back, take some time off, and have a good think on why the last couple films of his didn't land. Of course, he won't be doing so, with a schedule that's booked for the next couple of years. So the most we can do is hope that the better angels of Depp's career pay him a visit after this weekend's disastrous opening.
You can see Mortdecai in theaters now. You should probably see Paddington instead.
CinemaBlend's James Bond (expert). Also versed in Large Scale Aggressors, time travel, and Guillermo del Toro. He fights for The User.
Your Daily Blend of Entertainment News
Thank you for signing up to CinemaBlend. You will receive a verification email shortly.
There was a problem. Please refresh the page and try again.