Johnny Depp Officially On Board For Black Mass, Tom Hardy In Talks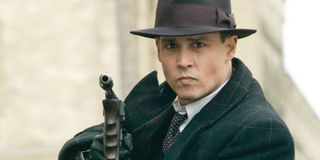 Johnny Depp hasn't shied away from playing real-life criminals, like gangster John Dillinger in Public Enemies or cocaine kingpin George Jung in Blow. So we shouldn't be too surprised that Cross Creek Pictures and Exclusive Media have convinced the eccentric A-lister to play the notorious Whitey Bulger for Black Mass.
Reporting out of the European Film Market, Deadline reveals Depp has officially signed on to star in Black Mass, a biopic that will chronicle the highlights of career criminal Bulger, who went from Boston's cruel kingpin to a fugitive at the top of the FBI's Most Wanted list. Joining him in this endeavor could be English hunk Tom Hardy, who has earned a reputation for growling tough guys with lead roles in Lawless, The Dark Knight Rises and Bronson. Hardy is said to be in early talks for the film's other lead role.
Rush producer Mark Mallouk wrote Black Mass's screenplay, adapted from Dick Lehr and Gerald O'Neill's best-selling book Black Mass: The True Story of an Unholy Alliance Between the FBI and the Irish Mob. The project came to light one year ago, when Depp was first attached. At that time, Barry Levinson was lined up to helm. By the spring, casting was moving forward and Australian leading man Joel Edgerton was attached to play Bulger's childhood friend turned FBI agent, John Connolly. But then pre-production hit a snag with Depp threatening to bail, reportedly over a paycheck dispute.
Things on Black Mass went quiet for months until January brought word of a new director. Writer-director Scott Cooper won acclaim with his 2009 Oscar-nominated debut Crazy Heart, but then earned critical scorn with his 2013 follow-up Out of the Furnace. Nonetheless, he was plucked to take up Black Mass's helm, and given a crack at revising its script. And once more Depp was attached. Now it seems Depp has settled on a figure for bringing his star power to this crime drama, and Hardy is being lined up to replace Edgerton, his Warrior co-star. If Cross Creek/Exclusive is able to nail down a deal with Hardy, production on Black Mass could begin as early as May of this year.
Notably, this isn't the only White Bulger biopic in the works. The thug who inspired Jack Nicholson's duplicitous Boston crime lord in The Departed is also at the center of a project in development by Ben Affleck. The helmer of Argo, The Town and Gone Baby Gone is planning this biopic to be another directorial outing, but it's nowhere near as far along as Black Mass. As of last fall, Affleck was angling for Aaron Stockard, one of his The Town co-writers, to punch up the screenplay.
Will there be room at the theaters for two Bulger biopics in the coming years? Or will Depp's version squelch the development of Affleck's? We'll be watching.
Staff writer at CinemaBlend.
Your Daily Blend of Entertainment News
Thank you for signing up to CinemaBlend. You will receive a verification email shortly.
There was a problem. Please refresh the page and try again.