Johnny English Is Reborn In This Trailer For The Sequel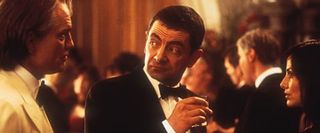 Though the title of the film is Johnny English Reborn, the title character remains just as magnificent a dufus as he ever was in the original movie. Rowan Atkinson reprises the role he made "famous" back in 2003 when he essentially gave his iconic buffoon Mr. Bean a voice and turned him into a super spy.
Reborn looks like more of the same, but if it's slapsticky lunacy and brainless fun then, like its predecessor, Johnny English, it will bring you what you're looking for. Johnny English Reborn looks ready to bring tons of goofy fun. Expect that and not something above the lowest common denominator of comedy when you watch the first trailer embedded below.
A series of recognizable names join Atkinson this time around. In the cast with Atkinson are Rosamund Pike, Dominic West, Pierce Brosnan, and Gillian Anderson. Johnny English Reborn arrives in UK theaters on October 7, 2011.
Your Daily Blend of Entertainment News