Jon Hamm And Jennifer Westfeldt Becoming Producers For Friends With Kids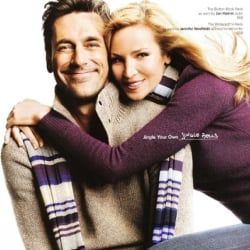 Jon Hamm and Jennifer Westfeldt have been together for over a decade, as he worked as an unknown actor and she wrote and starred in indie movies like Kissing Jessica Stein and Ira & Abby. Now that Hamm has hit the big time with his role on Mad Men, though, the couple is using the power of stardom to take both their careers into their own hands; according to Deadline they've established the production company Points West Pictures and kicking things off with Friends With Kids, which Westfeldt wrote and will be her directorial debut.
The movie has a major cast lined up as well, with Westfeldt starring alongside Adam Scott as two friends who witness all of their friends having kids and decide to have a child together while continuing to date other people. Hamm is also on board, along with Kristen WIig, Maya Rudolph, Chris O'Dowd, Megan Fox and Edward Burns. Principal photography started today in New York, and if you're about to tell me to start snooping around to figure out where Jon Hamm's trailer is, I'm way ahead of you.
Your Daily Blend of Entertainment News
Staff Writer at CinemaBlend