Jonathan Rhys Meyers In Talks To Join The Mortal Instruments Movie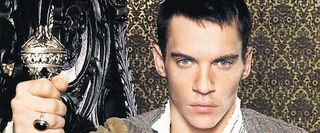 Something tells me The Tudors fans who also love the Mortal Instruments series are going to really appreciate this news. Jonathan Rhys Meyers is reportedly in talks to play a key role in the feature adaptation of Cassandra Clare's young adult fantasy novel The Mortal Instruments: City of Bones, which is expected to begin production this month in Toronto.
The Mortal Instruments is a series of novels that tells the story of Clary Fray, a modern-day teenage girl who learns she's the descendent of a line of demon hunters called Shadowhunters, and is soon drawn into a dangerous and exciting world she didn't know existed. Lily Collins is set to star in the feature adaptation, which is based on a script by Jessica Postigo and I. Marlene King.
The Hollywood Reporter shared the latest casting news, stating that Jonathan Rhys Meyers (The Tudors, August Rush) is in talks to play the part of Valentine Morgenstern, a "powerful but insane" Shadowhunter who's known to have extremist views. That's about as vague as the description gets without delving into spoiler-territory. Should things work out with negotiations, the Irish actor joins Collins,Game of Thrones' Lena Headey, Camelot's Jamie Campbell Bower and and Mad Men's Jared Harris among the cast of the film.
There's a dark sort of broodiness in Rhys Meyers that I expect will lend itself nicely to a role like this. The same could definitely be said for the Dracula series he's set to star in for NBC. Assuming this becomes official, it's another great bit of casting for the film.
Fans of the book, is he right for the role?
Your Daily Blend of Entertainment News
Thank you for signing up to CinemaBlend. You will receive a verification email shortly.
There was a problem. Please refresh the page and try again.