Joseph Gordon-Levitt & Emily Blunt To Lend Voices To Hayao Miyazaki's The Wind Rises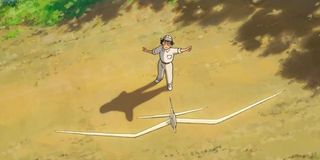 After announcing plans to retire, groundbreaking Japanese animator Hayao Miyazaki debuted his final film The Wind Rises onto the film festival circuit, where it played before audiences in Venice, Toronto, Sitges, and New York. A short theatrical run followed to allow it to qualify for the upcoming Academy Awards, but the big U.S. release is being reserved for next year, when Disney has had a chance to redub the Japanese film with English-speaking actors. At last, we've learned what stars will be lending their voices to the American version of this fascinating animated effort.
Collider reports Joseph Gordon-Levitt, John Krasinski, Emily Blunt, Martin Short, Stanley Tucci, Mandy Patinkin, Werner Herzog, William H. Macy, Mae Whitman, Jennifer Grey, Darren Criss, Ronan Farrow, and Elijah Wood have all come on board to do voice work for The Wind Rises's stateside release. With some fantastical creative liberties, the film tells the life story of Japanese engineer Jiro Horikoshi, who designed the Mitsubishi A6M Zero fighter plane the Japanese used throughout World War II.
Though animated, The Wind Rises isn't really a kid's movie. So it makes sense that Disney reached out to performers more likely to appeal to grown-ups. Gordon-Levitt, who recently released his polarizing directorial debut Don Jon, will play Jiro, a dreamer obsessed with creating beautiful planes. Mae Whitman of Arrested Development and Avatar: The Last Airbender will be his pesky little sister. Godron-Levitt's Looper co-star Emily Blunt will once more play his love interest, this time voicing Nahoko Satomi, a cheerful but frail girl brought to Jiro by fate. William H. Macy has signed on to voice her father, Satomi.
Two major influences in Jiro's life will be portrayed by Stanley Tucci and Werner Herzog. The former, who recently dazzled audiences in The Hunger Games: Catching Fire, will lend his lively lilt to Caproni, an Italian aviation engineer who serves as Jiro's idol and mentor. Herzog, the prolific German director of Grizzly Man and Rescue Dawn, gives voice to Castorp, a mysterious visitor who Jiro crosses paths with at a mountain resort in Japan.
Martin Short will play Jiro's cantankerous boss, while Homeland's Mandy Patinkin will play Hattori, a senior designer at Mitsubishi.The Office's John Krasinski, Wilfred's Elijah Wood, and Glee's Darren Criss, will provide the voices of some of Jiro's friends and colleagues. Jennifer Grey of Dirty Dancing fame will voice Mrs. Kurokawa, and Ronan Farrow (From Up On Poppy Hill) offers assistance as a Mitsubishi employee.
For more on the film, you can read my NYFF review here, or check out its first U.S. trailer below:
The Wind Rises will open in the U.S. in limited release on February 21st, 2014. An expanded release will follow on February 28th.
Staff writer at CinemaBlend.
Your Daily Blend of Entertainment News
Thank you for signing up to CinemaBlend. You will receive a verification email shortly.
There was a problem. Please refresh the page and try again.