Joss Whedon Is Obsessed With Having Hulk Battle Iron Man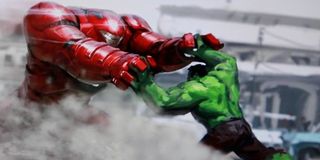 One of the earliest pieces of concept art teasing Joss Whedon's The Avengers: Age of Ultron showed the incredible Hulk going toe-to-toe with what we assume is Tony Stark (Robert Downey Jr.) in his Hulkbuster armor. There was a beat of similar action in the footage Marvel showed in San Diego Comic-Con, teasing a massive battle between Stark and Bruce Banner. It can be the centerpiece of any Age of Ultron marketing, and Marvel knows fans will flock. But Whedon's beginning to explain to fans why this face off is so important to him.
In a recent interview, with Empire magazine (via ComicBook.com), Joss Whedon admits that the existence of the Hulkbuster armor is "after my time [as a reader]," but it's the sheer force of The Hulk – and the personal relationships between the characters he has forged – that makes this battle so tantalizing for him. Whedon says:
Best friends? More like Science Bros!
When I think back to Joss Whedon's The Avengers, I'm always entertained by the physical confrontations the mighty director concocted. Thor (Chris Hemsworth) versus the Hulk (Ruffalo) stands out as one of my favorite in-house battles.
But the promise of the Hulkbuster armor has been rippling through the Marvel fan community ever since Shane Black included it in the final confrontation in Iron Man 3.
As Kevin Feige said, Tony Stark created this particular suit as a "back-up plan, in case things go awry." In The Avengers: Age of Ultron, we can count on it.
Movie junkie. Infatuated with comic-book films. ReelBlend cohost. Resident dad. Extroverted introvert. Wants to see the Snyder Cut. Managing Director at CinemaBlend.