Judd Apatow Doesn't Want Bridesmaids 2 To Be Jaws 3D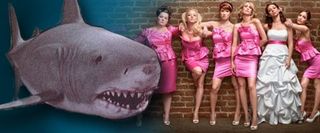 Last night Judd Apatow and the cast of the hit female-fronted comedy Bridesmaids took a victory lap at the Critics Choice Movie Awards. After accepting the honor for Best Comedy alongside director Paul Feig, Apatow, who produced the wildly successful romp, happily declared the win as a sign that this is a "golden era for talented women in comedy." But the next morning, it was back to business as Apatow joined Tiny Furniture writer-director-star Lena Dunham on the HBO TCA panel to promote the pair's soon-to-debut series Girls. Still, Apatow couldn't escape talk of a much buzzed about Bridesmaids 2.
The proposed sequel has grabbed plenty of headlines recently. First came reports that Kristen Wiig and Bridesmaids' co-writer Annie Mumolo weren't interested in making Bridesmaids 2, which led to rumors that Universal would seek to produce a cash cow sequel without them. Speculation soon surfaced that the flick's breakthrough comedienne Melissa McCarthy would shoulder the Wiig-less spin-off—up until McCarthy shot down such gossip with assurance she'd "never" sign on to Bridesmaids 2 without Wiig and Mumolo on board. Finally, Wendi McLendon-Covey suggested everyone mellow out, insisting a sequel wasn't out of the question—just not something that would be happening anytime soon. So, basically, it's little wonder Apatow was prodded for details on Bridesmaids 2.
Deadline reports Apatow responded with a mix of exasperation and humor, saying, "We're still promoting Bridesmaids 1; when the fog clears, we'll see if there is an idea worth doing." It's a statement Apatow's echoed before, essentially pleading for patience, and insisting no one from the original film wants to pursue a sequel unless the ideas there and solid, adding that the inspiration for Bridesmaids 2 would need to be more than money, saying, it's "not just, you know, how much money we could make? That usually leads to Jaws 3D."
Whoa… Don't get me wrong, Jaws 3D is funny it's own way, but let's hope this doesn't become Universal's next pitch at this sequel: 'Coming at you in 2013 diarrhea jokes in 3D!'
Staff writer at CinemaBlend.
Your Daily Blend of Entertainment News
Thank you for signing up to CinemaBlend. You will receive a verification email shortly.
There was a problem. Please refresh the page and try again.