Judd Apatow And Leslie Mann's Comedy Will Target Helicopter Moms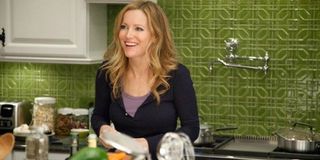 Judd Apatow and Leslie Mann are going after helicopter moms. The comedy couple is tackling parenting in their upcoming film, Bad Moms.
According to The Hollywood Reporter, Judd Apatow will produce a new comedy starring his wife, Leslie Mann, called Bad Moms. The new film targeting helicopter moms—you know the moms that hover over their kids because they're overprotective—has foreign distributors seeing dollar signs because they are already buying the movie for distribution. Bad Moms has yet to begin filming and it's already looking like the makings of a box office success, with yet another controversial topic and Apatow and Mann attached, it's no wonder why distributers are lining up for a piece of the action.
So, what was the clincher for the buyers? Apparently, the comedy duo of writer/producer/director Judd Apatow and comedic actress Leslie Mann is what helped to propel the sales. The husband and wife team have previously worked together on The 40-Year-Old Virgin, Knocked Up, Drillbit Taylor, Funny People and This Is 40, with great success. Bad Moms will be the couple's sixth film collaboration.
Bad Moms—also being called Troublemakers—is centered on Leslie Mann's character, who is a mother who has had enough of the helicopter moms. So, together with two other "bad moms" they take a stance against the moms that are ruling their kids' school. Jon Lucas and Scott Moore co-wrote the upcoming comedy.
No doubt Bad Moms will garner a lot of support from moviegoers as well. The touchy subject of helicopter parenting is sure to bring lots of laughs as well as spark debate among moms and dads alike. Not that a debate would be anything new for Judd Apatow. The director has previously been accused of sexism and bullying in his films, which supporters of his work are quick to shoot down. Regardless of what side of the fence you're on when it comes to an Apatow film or his collaborations with Mann, his work does bring people to the theaters and that's all distributers, international or domestic, really care about.
Constantin (Germany), Entertainment Film Distributor (U.K.), Roadshow Films (Australia), and Entertainment One (Canada) were among the first to buy the film for international distribution. Other international buyers for Bad Moms include Dutch Filmworks (Benelux), Freeman/Monolith/Blitz (Easter Europe), Gulf Film (Middle East), Ascot Elite (Switzerland) and United King (Israel).
On the domestic side, just last week Paramount Pictures acquired the film for U.S. distribution. Bad Moms is set to be released into theaters on April 15, 2016.