Judd Apatow Reveals Which Mega-Star Will Steal Amy Schumer's Trainwreck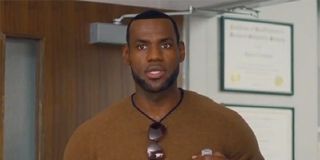 Judd Apatow's latest film Trainwreck is packed to the brim with some of the finest comedy talent in Hollywood. But according to Apatow himself they all pale in comparison to one of the film's lesser renowned actors: a certain LeBron James.
Following the release of Trainwreck's first trailer earlier today, The Hollywood Reporter published an interview with Judd Apatow in which the filmmaker reveals that the basketball icon has proved to be just as funny as all of the plethora of comedians that appear in the film. Discussing the feature's experience in early test screenings, the filmmaker told the trade,
Judging from Trainwreck's trailer, which premiered to plenty of chortles and mirth, it looks as though Apatow is telling the truth.
Even though the Cleveland Cavaliers player only appears in the trailer for the first time over half-way through the clip, he still has plenty of killer lines. I mean, who knew that he was such a big-fan of Downtown Abbey? But it's not just LeBron James who excels in the first footage for Trainwreck. WWE grappler John Cena also delivers some rather potent zingers too - especially when taking down a fellow cinema-goer who lambasts him for speaking too loudly during a flick and sets him up with a very funny Mark Wahlberg line.
Trainwreck revolves around Amy Schumer's lead character, who after being told at a very early age by her father, played by Colin Quinn, that monogamy simply doesn't work, has embarked on a rather promiscuous lifestyle. This basically sees her sleep with a cavalcade of different men on a regular basis. That's until Amy Schumer, who plays a magazine writer, is asked to interview Bill Hader's sports doctor. After a booze-filled night the pair end up doing the no-pants dance, and they begin a relationship together, putting the protagonist in untested waters.
Trainwreck is shaping up very nicely indeed. Not only is Bill Hader and Amy Schumer's camaraderie immediately intoxicating, but the film has a vast array of supporting comedic talent, which includes Vanessa Bayer, Mike Birbiglia, Brie Larson, Tilda Swinston, Ezra Miller, Jim Norton, and Method Man, as well as Cena and LeBron James are destined to compliment their patter immensely. We'll see if Trainwreck lives up to this early promise when it hits cinemas on July 17th.
Your Daily Blend of Entertainment News
Thank you for signing up to CinemaBlend. You will receive a verification email shortly.
There was a problem. Please refresh the page and try again.