Amy Schumer Will Host The MTV Video Music Awards, Get The Details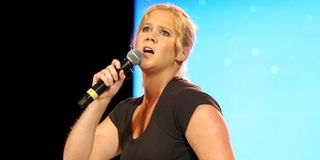 The woman who changed history by getting Comedy Central to stop censoring the word "pussy" is now getting ready to host the 2015 MTV Movie Awards. Amy Schumer, creator, writer and star of the comedy series, Inside Amy Schumer will host the upcoming awards show from Nokia Theatre in Los Angeles on April 12, 2015 at 9 p.m.
The comedian made her big break into the industry when she placed fourth on NBC's Last Comic Standing in 2007. Since then she went on create her own sketch comedy series on Comedy Central, which scored her an Emmy nomination for Outstanding Writing for a Variety Series in 2014.
Schumer has a busy year ahead of her. Not only has the actress/comedian become a big TV star, but she also has her first major role in a screenplay she co-wrote with Judd Apatow (who is also directing). The film, Trainwreck is due in theaters July 24, 2015 and has quite the cast including names such as Tilda Swinton, Bill Hader, Brie Larson, Jon Glaser, LeBron James, and more. Her acceptance of the hosting gig is surely a great way to promote her movie's following release.
She was the first person to announce themselves as the host, and of course, Schumer did it in her own twisted comedic style. Here's what she tweeted out the good news.
If you can't tell, that's Schumer holding a prescription pill bottle, already prepping for the craziness that is bound to ensue at a MTV Movie Awards. Schumer followed up in a statement with Variety saying, "I am honored to be hosting the awards. I will carry the audience with me like a teen mom #breaktheinternet #breakmywater." And the comedian is sure to do so, but she does have some big shoes to follow.
The MTV Movie Awards often choose some of the trendier comedians of the year, last year was Conan O'Brien, the year before that Rebel Wilson, and before that Russell Brand. It'll be up to Schumer to hold the stage as her own, and her dry, witty, and sharp humor is bound to keep the audience feeling awkward and engaged at the same time. It will be an unexpected and hilarious ride, and with this kind of energy, she can definitely steal the stage:
Your Daily Blend of Entertainment News
Thank you for signing up to CinemaBlend. You will receive a verification email shortly.
There was a problem. Please refresh the page and try again.