Jude Law May Play Douglas Fairbanks In Mary Pickford Biopic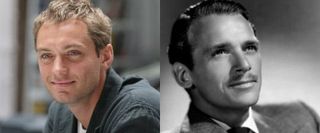 UPDATE: A previous version of this article incorrectly said that Jonathan Demme was being considered as the film's director. The post has been updated to reflect that change. There are hundreds and thousands of stars who have risen to huge heights in Hollywood only to be totally forgotten, but perhaps none more significantly overlooked than Mary Pickford. Though plenty of people can probably name her contemporaries like Charlie Chaplin and Buster Keaton, Pickford-- the first female movie star to become a mogul in her own right-- is known mostly to lovers of old films, and her movies are rarely revisited as often as, say, The Gold Rush. But Pickford's story remains fascinating no matter how much you know about her, and an upcoming biopic is looking to tell it. Now they're looking to add a little modern-day starpower to help guarantee some eyeballs.
According to Forbes, producers Jennifer DeLia and Julie Pacino have already brought in Broadway up-and-comer Lily Rabe to play PIckford, and they're now eyeing Jude Law to play Douglas Fairbanks, one of Pickford's three husbands and one of the few people as famous as she was in her prime. Pickford and Fairbanks teamed up with Charlie Chaplin and DW Griffiths to found United Artists, the studio that put the power of film distribution and production into the hands of the actors and directors who created them. Pickford and Fairbanks also had a famously contentious personal life, starting their relationship while Pickford was still married to her first husband, and ending it when he began an affair with someone else.
We all know Law's talents, and his ability to channel actors from an earlier time in Hollywood-- remember his Errol Flynn in The Aviator-- but Rabe is more of a mystery, having done the bulk of her work so far onstage in New York. And while she may indeed be a talent just waiting to break out, she's also got some enviable connections-- she's the daughter of the late Jill Clayburgh, and starred opposite Al Pacino as well as his daughter Julie-- yes, the producer of the Pickford biopic-- in The Merchant of Venice in New York. The Forbes writer says Rabe is the real deal, and I don't know who I am to doubt them, but you have to sense a whiff of nepotism in there too.
As for who might direct the project, producer Jennifer DeLia will be taking over behind the camera as well. If you want to get on board to play Chaplin or Griffiths or any other silent movie era star, she's the person to talk to.
Staff Writer at CinemaBlend