Justice League Dark May Want Colin Farrell For A Lead Role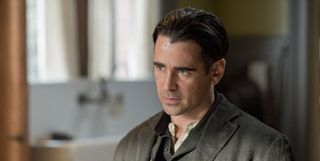 Although DC is going full steam ahead to unfold their cinematic universe, one of their projects has encountered more trouble than the rest: Justice League Dark. Having been in development for years, the movie still doesn't have a release date. Guillermo del Toro was set to direct, but following too many delays, he dropped out to focus on other projects. Now Warner Bros. is searching for his replacement, but in the meantime, they've already began looking for actors, and chief among them may be Colin Farrell as John Constantine.
It was previously reported that Constantine will be one of the lead characters in Justice League Dark, and according to Latino-Review, Farrell is the the frontrunner to play the chain-smoking occultist. Should the movie go forward, Constantine will fight dark forces alongside Swamp Thing, Deadman, Zatanna, and Etrigan the Demon, though it's mentioned that Madama Xanadu may be added as well, so there's even more resemblance to the New 52 superhero team. The article notes that Ewan McGregor has also been approached to play Constantine, though at this point, it sounds like it's Farrell who's caught Warner Bros.' eye.
Farrell is currently filming the Harry Potter spinoff Fantastic Beasts and Where to Find Them (another WB project), and he also has fantasy experience through films like Winter's Tale and The Imaginarium of Doctor Parnassus, so Justice League Dark would be around this wheelhouse. He also has the right kind of presence where you can believe he's been around the block and dealt with malevolent magical forces, all while delivering that trademark snark. Should Farrell be hired, this would be his second comic book role, previously playing Bullseye in 2003's Daredevil.
Justice League Dark won't be the first time Constantine is seen on the big screen. He was previously played by Keanu Reeves in 2005's Constantine, though there were a lot of liberties taken with that version of the character, like him being American. However, over the past year, Constantine has earned notoriety being played by Matt Ryan in NBC's short-lived Constantine TV series (and one Arrow episode). Despite the show being cancelled, Ryan's performance earned a lot of positive reviews, namely for his uncanny resemblance to the comic book character and nailing down his snarky attitude. It's hard to imagine anyone topping that version, but Farrell could certainly give Ryan a run for his money.
Among the other casting tidbits provided were Ron Perlman being a popular candidate for Swamp Thing and Monica Belluci being the main choice for Madame Xanadu. As for Deadman and Zatanna, a "comedic presence" is being looked at for the former, while a hispanic/black actress is being considered for the latter. No name or actor type was given for Etrigan, though the article speculated that between McGregor and Farrell, the one who doesn't get to play Constantine will be given a consolation prize and play Jason Blood, the rhyming monster's human counterpart.
We'll keep you apprised of any developments on Justice League Dark, but for now, let us know if you think Farrell playing John Constantine is a good choice or if the studio should keep looking for someone more worthy.
Your Daily Blend of Entertainment News
Connoisseur of Marvel, DC, Star Wars, John Wick, MonsterVerse and Doctor Who lore. He's aware he looks like Harry Potter and Clark Kent.