Justice League Movie In Shambles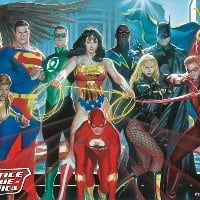 With dozens of high-profile projects on hold thanks to the writers' strike, rumors about the Justice League of America movie have sometimes been the only thing keeping us going. But now it's looking like good ol' JLA might be falling victim to the strike too, as reported by the Australian news site News.com.au.
"It's a big shambles," says "a film insider" in the article. They say that the movie is in pre-production at Australia's Moore Park Fox Studios, but much of the crew hasn't yet returned from summer vacation (remember, Australia has summer when we have winter—lucky bastards).
It would be fair to say that JLA has been in shambles for a while now, with the constantly changing rumors and revolving door of cast members. Haven't more people dropped out of this thing than have been cast at this point? It almost seems like a strike delay could do these guys a favor, giving them time to retool and come up with a script that high-level stars like Jessica Biel would actually want to attach themselves to. But given that so many projects haven't been able to get off the ground at all, it's easy to imagine them going ahead with the script and making one of the worst superhero movies of all time. I know some purists couldn't handle seeing the Justice League reduced to camp, but I for one think we could use a good dose of B-movie schlock in capes and tights.
Your Daily Blend of Entertainment News
Staff Writer at CinemaBlend