This Kansas Town Loves Back To The Future Way More Than You Do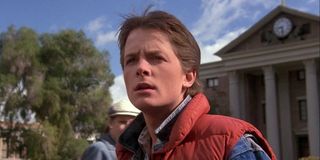 So you think you're a pretty big Back to the Future fan? That's probably true. It's a great movie, and maybe you only wear purple Calvin Klein underwear and drive a DeLorean outfitted with a custom-built Mr. Fusion replica. But no matter what, I think the Kansas city of Augusta has you beat as they officially changed their name to Hill Valley, the name of the fictional hometown of Marty McFly.
Today, July 3, 2015, marks the 30th anniversary of Robert Zemeckis' beloved sci-fi adventure, and according to The Butler County Times-Gazette, which is a mouthful of a masthead, Augusta chose to rechristen itself as Hill Valley. At least for a time. While the change took effect at 12:01am, the name will revert back to Augusta at the stroke of midnight. Hopefully all 9200 resident superfans, as well as the rest of the world who hears about this awesome display of collective nerdiness, enjoy it while it lasts.
This event also coincides with the 80th anniversary of the Augusta Theatre, which has been a fixture in the community for, well, 80 years. Theatre manager Micelle Spainhower explained the reason behind the name change:
Along with the temporary name change, the new Hill Valley will also host a variety of Back to the Future-themed events. This includes a Marty McFly lookalike contest—again, I have to go back to the purple Calvin Kleins to really sell the whole ensemble, at least that's what I'd look for if I was the a judge. There will also be a DeLorean available to take photos with, and Augusta Theatre is itself hosting a Back to the Future marathon, just in case you haven't watched it enough times over the last week as all three movies have been on a constant loop on cable. At least if you're near Kansas, which I'm sure some of you are, you can stop by for the festivities.
This is just one of numerous celebrations of Back to the Future scheduled for the year. It doesn't hurt matters that 2015 is also the year Marty McFly travels to in Back to the Future 2, though he doesn't arrive until October, so we have a while to wait to mark that momentous occasion (think self-tying Nikes). Without a doubt the coolest of these will be the Secret Cinema screenings of the film in Los Angeles, and if you want a taste of what that entails, check out the above video from their epic London run.
Your Daily Blend of Entertainment News
Thank you for signing up to CinemaBlend. You will receive a verification email shortly.
There was a problem. Please refresh the page and try again.