Karate Kid 2 Has Found Its Director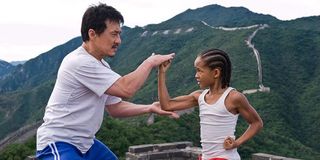 Hollywood is still trying to make Jaden Smith happen. So here comes Karate Kid 2, a sequel to the 2010 reboot fronted by Will Smith's son. It's been four years in development, and at long last Sony Pictures has snagged someone to climb into it's director's chair.
Deadline reports Sony has selected Breck Eisner, director of the 2005 action-adventure Sahara and the 2010 horror remake The Crazies, to helm Karate Kid 2. The sequel will reunite the talents of Jaden Smith and Jackie Chan. After Karate Kid made a whopping $343 million worldwide, Sony was hot to spin it into a new franchise (so it's somewhat strange it's taken so long for the movie to be made).
We first got word of a potential Karate Kid 2 (not to be confused with 1986 Ralphio Macchio-fronted The Karate Kid: Part II) just four days after Smith's high-kicking drama hit theaters. News leaked that Sony was seeking pitches for how Dre Parker (Smith) and Mr. Han (Chan) might be weaved into a second story that would play big to both foreign and domestic audiences.
Within a couple of months, Sony had secured Cyrus Voris and Ethan Reiff, the screenwriters behind Kung Fu Panda, to tackle the script for Karate Kid 2. But details on the plot were being withheld from the press. Still, it seemed a good sign as Voris and Reiff have already proven they know how to construct an engaging martial arts movie that plays well to kids.
Karate Kid 2 fell off the radar, presumably as Voris and Reiff dug deep on the script. But by February of 2012, they were both off of the project, and Zak Penn was brought in to figure out the screenplay. Penn is a scribe with a past you might describe as "checkered" (at best). His failures include writing credits on big box office duds like Elektra and The Incredible Hulk, while his successes include story credits on X-Men 2 and The Avengers. His co-writing credit on X-Men: The Last Stand could really be called either way.
Does Penn's heavy background in superhero movies suggest Sony was looking for more action or more fantastical fights in Karate Kid 2? Frankly, we still don't know as the studio is continuing to keep quiet on the sequel'splotline.
It'll be interesting to see what kind of budget they throw down on this property. Sure, the first reboot was a big hit, but that was four years ago and counting, and Jaden has not grown as a leading man in the meantime. His only film role since then was in the critically reviled After Earth, which boasted a $130 million budget but only took in $60 million domestically. $183 mil overseas padded Sony's loss on that property, but I'm still surprised they are betting on Jaden once more.
Can Jaden Smith turn things around and still become a big star? Karate Kid 2, which once again is being co-produced by his father's production company Overbrook Entertainment, might be his last chance to prove it.
Your Daily Blend of Entertainment News
Staff writer at CinemaBlend.