Keanu Reeves' John Wick Has An Insane Body Count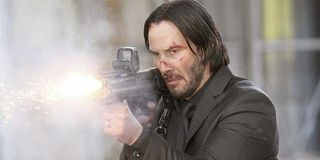 Is Keanu Reeves back? It appears so. After several years of cinematic duds, including the likes of Constantine, The Day The Earth Stood Still and 47 Ronin, Reeves' new film, John Wick, premiered at the Fantastic Festival to rave reviews over the weekend - and the Speed star has especially come in for high praise for his performance.
It also helps that there are rumored to be at least 84 kills in the film, most of which are head shots. Still need to be convinced? You should check out the trailer below then:
You see what happens when you mess with Keanu's dog? Directed by first-time feature filmmaker Chad Stahelksi (who has forged an impressive career as a stunt-man), and written by The Package's Derek Kolstad, John Wick looks to mix the visual style of Drive with the simple plotting of Taken to create a bona-fide B-movie homage. Reeves appears to give a nuanced yet charismatic edge to the titular character, while the likes of Alfie Allen, Ian McShane, Adrianne Palicki, Willem Dafoe, Jason Isaacs, John Leguizamo, and Michael Nyqvist reportedly help to elevate the blockbuster with superlative supporting performances too. All in all there's clearly plenty to be excited about.
Soon after the screening for John Wick concluded, Twitter started to become infested with reviews from critics lucky enough to see the pulsating, action extravaganza. You can check out a few choice overviews here:
If at this point it seems like reviews for John Wick have been universally positive, it's because they have been. The movie currently has a 100% on Rotten Tomatoes,, which is no small feat.
John Wick tells the story of Reeves' eponymous ex-hitman, who comes out of retirement to track down the gangsters that took everything from him. Soon he is driving in an out of New York City's urban labyrinth as he pursues his targets. It looks as though it could be Reeves' best-action work since The Matrix, and anticipation ahead of its October 24th release is now at a fever pitch.
Your Daily Blend of Entertainment News
Thank you for signing up to CinemaBlend. You will receive a verification email shortly.
There was a problem. Please refresh the page and try again.