Keanu Reeves Teams Up With Game Of Thrones And Friday Night Lights Stars For Thriller John Wick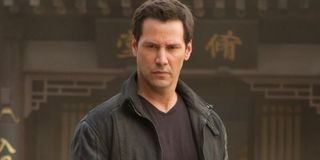 Mainstream audiences might have noticed a lack of Keanu Reeves at theaters following the disappointing sci-fi blockbuster The Day The Earth Stood Still. But after taking some time to focus on smaller features like Malcolm Venville's dramedy Henry's Crime, the filmmaking documentary Side by Side and the New York-set indie Generation Um…, Reeves is returning to the kind of action-packed thrillers that made him a 1990s megastar. The latest of these is John Wick, a revenge thriller that will mark the directing debut of David Leitch and Chad Stahelski, professional stunt men who both worked with Reeves in the Matrix trilogy.
Deadline reports The Girl With the Dragon Tattoo's Michael Nyqvist, Game of Thrones' Alfie Allen, Friday Night Lights's Adrianne Palicki and Dean Winters, best-known by 30 Rock fans as Dennis Duffy, have signed on to join the cast that also includes Willem Dafoe. In the original feature scripted by Derek Kolstad, Reeves and Dafoe play hitmen and long-time friends who find themselves in a kill or be killed confrontation when one is hired to murder the other. Reeves plays Wick, who left behind his career as a professional killer in part because of advice Dafoe's character Marcus once gave him. But Wick finds himself in Marcus's crosshairs after hunting down the car thief who killed his beloved dog that was a gift from his late wife. Turns out this sloppy carjacker is the son of a merciless NY crime boss, who in turn hires Marcus. No mention is made of what roles Nyqvist, Allen, Palicki, and Winters might play. However, based on Allen's work on Game of Thrones as the alternately vicious and whimpering Theon Greyjoy, my bet would be he's lined up for the role of the car thief/son of a gangster. This could leave the NY gangster role for Winters.
John Wick is currently in production in New York City, and it's expected to hit theaters in 2014. In the meantime, Reeves's fans will have two more action-packed adventures to look forward to. First up is 47 Ronin. Directed by Carl Rinsch, this long-awaited samurai tale follows a band of warriors of 18th-century Japan who seek to avenge the death of their master by defeating the shogun who killed him. The film co-stars Pacific Rim's Rinko Kikuchi and The Wolverine's Hiroyuki Sanada, and will open on Christmas day 2013.
Next up will be Man of Tai Chi. This martial arts drama not only stars Reeves, but also marks his directorial debut. Set in the modern day, the film follows a young fighter who takes his stellar Tai Chi skills into the dangerous but highly lucrative world of underground fight clubs. But this warrior struggles to maintain his moral integrity as he makes the fights get tougher and the prizes get bigger. Last spring, Radius-TWC picked up the North American distribution rights for Man of Tai Chi, but a US release date has not yet been announced.
Your Daily Blend of Entertainment News
Staff writer at CinemaBlend.