Keanu Reeves Samurai Movie 47 Ronin Bumped To 2013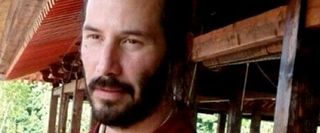 '90s action icon Keanu Reeves has kind of fallen off the map in recent years, but seemed set to return with a flourish this fall fronting Universal's samurai-centered epic 47 Ronin. In the film, Reeves is set to play a loner in 18th century Japan who joins a band of warriors on a path to avenge their murdered master. With the promise of plenty of spectacular martial arts action and the assurance of a 3D production—no post-conversion for first-time feature helmer Carl Rinsch—47 Ronin seemed in a good position to battle its box office competition on Wednesday, November 14, 2012. However, Universal has just bumped the film's premiere until February 8, 2013.
THR notes that no motive for the change has been announced, but speculates that it may be that 47 Ronin's involved post-production process required more time. However, it seems more likely to me that Universal has gotten spooked by Sam Mendes' much-anticipated James Bond thriller Skyfall, which was slated to open the weekend before on November 9th. As other release dates have fallen into place, 47 Ronin was pinched between a rock and a hard place with Skyfall preceding it and The Twilight Saga: Breaking Dawn – Part 2, which seems sure to dominate the box office, opening the following weekend.
So rather than bump a few weeks and release this action feature in the winter season flush with Oscar-bait and family-friendly holiday fare, it appears Universal pushed 47 Ronin to February. The fact that they steered clear of January—which is notoriously a dumping ground for dreck or movies studios have lost faith in—suggests 47 Ronin is still something worth being excited for, though fan enthusiasm will have to hang on a little longer.
To recap, 47 Ronin in 3D will now hit theaters February 8, 2013, and that looks to be a good thing.
Your Daily Blend of Entertainment News
Staff writer at CinemaBlend.