Keira Knightley Not On Board For Fourth Pirates Movie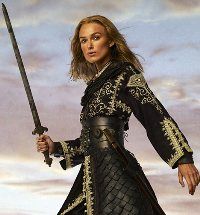 Though the three Pirates of the Caribbean movies have grossed more money than God, and made Keira Knightley an international superstar, the Oscar-nominated actress says she won't be boarding the Black Pearl again.
Asked about a potential fourth Pirates movie, she told a group of Manhattan journalists today, "I can't imagine doing another one. That was an amazing experience, it really was, and totally extraordinary, [but] I think three for me is probably enough."
This summer's Pirates of the Caribbean: At World's End brought in nearly a billion dollars worldwide, which is even more amazing given that the trilogy has made over $2.5 billion total. Just in case you're counting, that's about half of what all of Hollywood makes in a year. The Pirates ship is clearly where the money is, but Knightley is probably smart to disembark. She's getting rave reviews for her role in the upcoming Atonement, and has gained lots of attention as a dramatic actress rather than a sword-wielding pirate.
Check Cinema Blend later this week for more from Knightley, talking about her chemistry with Atonement co-star James McAvoy, her streak of great female roles, and learning to smoke like Greta Garbo.
Your Daily Blend of Entertainment News
Staff Writer at CinemaBlend