Kevin Smith Explains Zack And Miri's Stick Figure Poster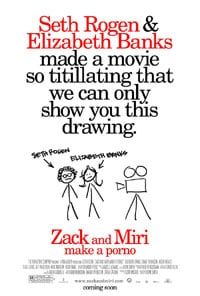 Last week Kevin Smith, after a battle with the MPAA, released the first official movie poster for Zack and Miri Make a Porno. In a stroke of genius, he used stick figures, to poke fun at the MPAA's overzealous policing of the movie's poster art. The minute we saw it, we all knew it was perfect, but it seems Kevin was a little less sure it would work.
Talking during his guest stint on this Sunday's Weekly Blend Audio Show, Smith talked about the path that led them to stick figures saying, "We kinda submitted it a few times and they kept kicking back until finally the only way we could come up with a poster was to make fun of the fact that we couldn't come up with an approvable poster. So we went with stick figures instead."
For the Zack and Miri team though, it was a last act of deperation, one which they didn't really think would work. Smith continues, "Right before we kinda released it, I was just like, you know, it's a shame because people seem to be really digging the movie and now they're gonna start picking on the poster. And they embraced the poster." What makes the poster work so well? Kevin has a theory. He says, "I think it has a lot to do with the fact that Seth's stick figure looks exactly like Seth. It's so convincing. You put it up there and without a name people go 'that's Seth!'"
Don't miss the rest of Kevin Smith's brilliant stint filling the fourth seat on this week's podcast. Click over and subscribe to The Weekly Blend Audio show on our podcast page.
Your Daily Blend of Entertainment News