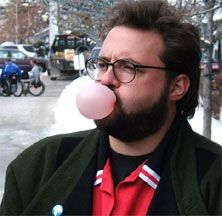 The comedy we first told you Kevin Smith was working on here has a name, and you're going to like it. The movie is a bawdy sex-comedy called Zack and Miri Make a Porno, and the LA Times says the Weinstein's gave him $15 million to make it based on that title alone. Smart move guys.
Smith says, "It's … dirty, with nudity… But funny nudity, not gratuitous nudity." Sounds like a simple, sure path to success to me. The movie takes place during a snowy Minnesota winter and Kevin plans to shoot there this coming February.
Before that though, he still has that horror movie Red State to do. The LA Times indicates that he plans to give his extreme fundamentalist horror movie a "naturalistic, drive-in feel". Of it Smith reiterates his earlier insistence that this won't be a traditional horror movie. He says, "Horror is more than a dude with a chain saw."
It looks like he's already working on casting Red State. Rosario Dawson is supposed to show up at his house to give a read this week. How great would it be if she somehow became a Kevin Smith regular? But seriously Kev, can we get her in Porno? I'd much rather see Rosario in a scantily clad sex comedy than as a crazed, uptight, right-wing, fundamentalist Christian.
Your Daily Blend of Entertainment News