Kid's Mad Scientist Makes Movies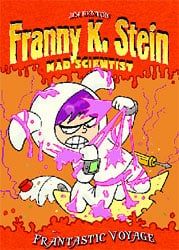 Adapting children's books seems to be all the rage these days. I swear we've seen three or four stories a week about this children's book series becoming a movie or that one. Here's one that actually intrigues me a bit, however. East of Doheny and the Gotham Group are teaming up to adapt Jim Benton's "Franny K. Stein, Mad Scientist" series of books for the big screen.
For those who don't recognize the name, Jim Benton is the name behind the "Dear Dumb Diary" series as well as the "It's Happy Bunny" products. Those were more for adults, however. "Franny K. Stein" is his first attempt to market toward kids. This is typically clever one liners and funny quips, and Franny isn't much of an exception. In fact, the series includes lots of tongue-in-cheek references to classic monster movies and science fiction pictures.
Even better for the kind of stories Benton tells, the adaptation is intended to be an animated picture. Franny K. Stein, Mad Scientist: Lunch Walks Among Us is the first book of the current six book series (although a seventh book should be out soon), opening the door for quite a franchise. The underlying theme of the stories is about maintaining individuality. If you think about it, that's a pretty constant theme behind a lot of good children's stories, from The Muppet pictures to more recent pictures like the Shrek series.
I'm always in favor of good children's films and I think Benton's stories sound like a good starting place. Adding in inside jokes for classic films and stories is always an added plus – it builds viewers interests in classic movies. No writer or director is attached yet, so this has a ways to go before I get too excited about it.
Your Daily Blend of Entertainment News