Kingsman Rocks: 5 Awesome Movie Uses Of Lynyrd Skynyrd's Free Bird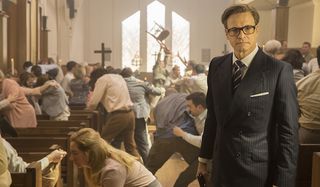 There have been some amazing uses of music in film over the years, most notably in recent decades, coming from pop culture music enthusiast/filmmakers like Wes Anderson, Martin Scorsese and Quentin Tarantino. Sometimes songs tie in to movies with such dramatic results that the two are forever linked in time. You can't imagine the scene without the song, and you can't hear the song without picturing the scene. I don't know about you, but to this day I still can't listen to "Stuck In The Middle With You" without thinking of Mr. Blonde slicing off Marvin Nash's ear.
That said, there is the rare occurrence when a famous track is used multiple times across several films, all with spectacularly memorable results. Lynyrd Skynyrd's "Free Bird" is one of those songs. This classic jam has been used in a number of films over the years, most recently in Matthew Vaughn's Kingsman: The Secret Service, where it was used in an all new killer context. We've whittled the list down to include only the very best cinematic moments, so -- with that said -- here are the five most awesome movie uses of Lynyrd Skynyrd's "Free Bird."
Spoilers ahead so proceed with caution.
5. Outside Providence (1999)
Remember the coming-of-age comedy Outside Providence, co-written by the Farrelly Brothers and starring Shawn Hatosy (Tim Dunphy), Amy Smart (Jane Weston) and Alec Baldwin (Old Man Dunphy)? I'll be the first to admit, it's difficult to forget the subtly brilliant touches like Old Man Dunphy's iconically derogatory nickname for his son Tim... "dildo."
What you might not recall, however, is the somber moment when Drugs Delaney (Jon Abrahams) passes away in a car accident and his friends gather around a bonfire to pour one out for their homey. There's no arguing the inclusion of Lynyrd Skynyrd's "Free Bird," playing softly behind them as they share fond words for their lost friend, was key to conveying the emotional, yet comedic, tone of the scene. "When everybody took one, he took two. Nobody can take that away from him."
4. Forrest Gump (1994)
When Robert Zemeckis' Forrest Gump graced our screens back in 1994, nearly everyone took to Tom Hanks as the lovable title character and his "stupid is as stupid does" charm. Of course we loved Forrest, but he would have been a lot less interesting if not for the many iconic scenes built around the colorful characters surrounding him, one of which was his childhood friend Jenny (played by Robin Wright).
Among Jenny's many memorable moments was one where, high on cocaine, she contemplates suicide on the balcony of a high-rise apartment. Thanks to the brilliant use of Lynyrd Skynyrd's "Free Bird," the scene is able to connect with audiences and reach all new levels of emotional impact.
3. The Devil's Rejects (2005)
Watching as the infamous Firefly family in Rob Zombie's horror masterpiece The Devil's Rejects wreak havoc on innocent victims during their road trip from hell is terribly frightening while, at the same time, devilishly funny. Yes, there's that unforgettably brutal scene where Otis (Bill Moseley) forces one of his female prey to don a fresh mask made from the skin of her husband's face. No need to remind you of how that character meets her abrupt demise.
While there are dozens more killer moments from Zombie's freakishly creepy film that we could talk about, it's the grand finale featuring -- yep you guessed it -- Lynyrd Skynyrd's "Free Bird" that will forever be etched in the minds of viewers. Seeing the sadistic trio, made up of Baby (Sheri Moon Zombie), her adopted brother Otis (mentioned above) and everybody's favorite creepy clown Captain Spaulding (Sid Haig), cruise down the empty highway to the timeless track is nothing short of iconic. The resulting slow-motion, high-speeds, epic shootout with law enforcement officials certainly provides for one of the greatest movie moments ever associated with the massive jam.
2. Elizabethtown (2005)
Elizabethtown is one of those films that you don't necessarily watch all the time, but when you come across it, you start to remember how much you love it. It may not be considered Cameron Crowe's masterpiece, but it certainly demands some good old fashioned southern respect. It's a comedy, drama, love story, coming-of-age film and road trip movie all built into one... and features some great performances contributing to even greater sequences.
And while Crowe has definitely created some of the more memorable music-based moments in cinema, none have surpassed the moment when Jessie Baylor's (Paul Schneider) band takes the stage in Elizabethtown to play Lynyrd Skynyrd's "Free Bird." In an attempt to blow minds, the group releases a giant bird prop that accidentally catches fire and subsequently creates chaos across the entire banquet hall. The song is critical to the moment, and Crowe shows amazing mastery over the material, building with precise editing, a perfect arc that ends with an unforgettable peak.
1. Kingsman: The Secret Service (2014)
Matthew Vaughn's Kingsman: The Secret Service has undoubtedly resonated with viewers, much due to the director's approach to filmmaking seemingly finding itself directly in sync with current audience demand. His cinematic style, of which he has honed for over a decade, has officially nailed the perfect blend of cheeky comedy, over-the-top action and ridiculous violence that fans of big movies have apparently been craving.
While Kingsman was packed with great scenes, there is one particularly, the now-infamous "Church Scene," that will have viewers on the edge of their seats for years to come. The culmination of brilliant performances (Colin Firth, Samuel L. Jackson, Taron Egerton), choreography, cinematography, editing and directing, the scene truly does take the craft of filmmaking to a whole 'nother level. And as you may have expected, the icing on the cake that makes this scene so iconic is the overlay of Lynyrd Skynyrd's "Free Bird." The previously-mentioned uses of the track are all excellent in their own right but Vaughn's use in Kingsman undoubtedly showed the song could be taken to even greater heights. How this use of the song will ever be topped, I don't know... but it's likely to happen at some point in time, just as Forrest Gump, The Devil's Rejects and Elizabethtown have all been eclipsed over the years.
Your Daily Blend of Entertainment News