Why Marvel Movies Are Better Than DC, According To Samuel L. Jackson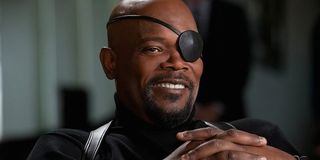 While most fans of superhero movies admittedly watch both Marvel and DC films, it doesn't necessarily mean they don't have a strong opinion on their preferred universe. Some viewers favor Superman's moral compass over Iron Man's playboy persona, and vice versa, and to that I say "to each his & her own." Turns out Samuel L. Jackson also has his own strong opinions on his superhero universe of choice, Marvel, and while he may have a more than a few obvious reasons for this, he definitely still raises an interesting point.
With Marvel Studios hitting pretty much all the marks with their most recent installment of the Cap solo series of films Captain America: The Winter Soldier, the hugely successful Guardians of the Galaxy franchise launch and likely the highly-anticipated soon-to-be-released Avengers: Age of Ultron (coming in a few months), the company is inarguably taking live-action superheroes to all new heights. What about the DC Universe, you ask? They don't even hold a candle. At least, that's what Nick Fury actor Sam Jackson believes. Here's what he had to say in a recent interview with MTV News:
While I agree that Marvel, through its shared universe, has a way of connecting with mass audiences on levels beyond what DC has proven capable of, I would argue the upcoming Batman v Superman: Dawn of Justice has already showed they can get fans very much "juiced up." If Zack Snyder can deliver the goods (which I'm confident he can), it will likely launch the DCCU into the next phase of its brand and put them that much closer to playing in the same ballpark as Marvel. Does that mean if they knock it out of the park with BVS that the two are neck and neck? Not quite.
Marvel has already proven it can get fans absolutely pumped about superheroes like Iron Man, who only decades ago were looked as almost laughable. On the contrary, as of this moment audiences have little faith in DC films other than the ones driven by its two leading characters Batman and Superman. That's why there is so much riding on Snyder's upcoming Batman v Superman: Dawn of Justice. Provided it goes well, they are in a great position to capitalize with their followup Suicide Squad (2016), which while it's too early to see how mainstream audiences may respond, is thus far looking pretty intriguing to us geeks. Also keep in mind that Jackson is totally biased to Marvel, due to his almost double digit number of appearances (with two more to go) in the studio's films. And note that DC's shared universe, with only Man of Steel, is still in its infancy, while Marvel is already 10 films deep.
Batman v Superman: Dawn of Justice, not hitting theaters until March 2016, will absolutely be a defining moment for the DC universe. We'll have to wait and see how that turns out. Until then, we've got Joss Whedon's Avengers: Age of Ultron, hitting theaters May 1, 2015, to look forward to.
Your Daily Blend of Entertainment News