Kirk Cameron's Christmas Movie Is Coming And Its Trailer Is Outlandish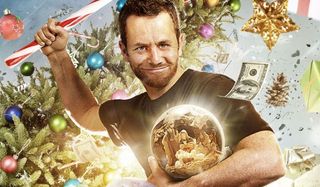 Have you ever wondered what A Very Harold & Kumar 3D Christmas might look like if PAX (now Ion) TV remade it? Well, wonder no more thanks to Kirk Cameron's Saving Christmas. The trailer for this limited release "comedy" can be watched below, and it plays like the raunchy holiday laffer minus the drug use, cursing, violence, sex, and debauched child star Neil Patrick Harris. Instead, you get child star turned evangelist Kirk Cameron, saving Christmas.
Fandango drew our attention to this soon-to-open Christmas movie, and the title has us asking, is it Kirk Cameron's Saving Christmas like Tyler Perry's A Madea Christmas? Or is it like Kirk Cameron IS Saving Christmas? Really it may be both, as it's not just a movie fronted by the former star of Growing Pains, but also one in which he plays a character named Kirk.
Kirk Cameron's Saving Christmas takes on that "War on Christmas" narrative by starting at an annual Christmas party. Kirk learns from his sister (not played by real sister Candace Cameron Bure for reasons we can't comprehend) that her husband Christian is no longer in the Christmas spirit. Kirk understands his disillusionment, explaining in the voice over:
Perhaps you think this sounds like the beginning of a Fox News segment, but Kirk Cameron's bringing you a pro-religious Christmas message without all the shouting. Instead, he offers a seemingly jaunty tale of the true meaning of Christmas, "It's all about Jesus."
Kirk Cameron's Saving Christmas is a Provident Films release. This subdivision of Sony focuses solely on providing Christian entertainment. Prior releases include the documentary One Nation Under God, the football drama Facing Giants and the PG-comedy Mom's Night Out. Their latest release was directed and co-written by music video director Darren Doane, whose credits include the Blink 182 video for "Dammit," funny enough. It's a shame Kirk Cameron's Saving Christmas doesn't look funny at all.
This is meant to be a trailer about a comedy, and yet there doesn't appear to be a single joke in it. There's dancing, mugging for the camera, some preaching and plenty of Kirk Cameron, and at best a sloppy bit of cutaway slapstick that has Christian sliding on his belly into the Christmas tree. I've said it before and I'll say it again: do movies aimed at the religious need to be this lifeless and hokey? I wish this Christmas movie trailer had the kind of energy its poster does.
Kirk Cameron's Saving Christmas opens in select theaters on November 14th.
Staff writer at CinemaBlend.
Your Daily Blend of Entertainment News
Thank you for signing up to CinemaBlend. You will receive a verification email shortly.
There was a problem. Please refresh the page and try again.