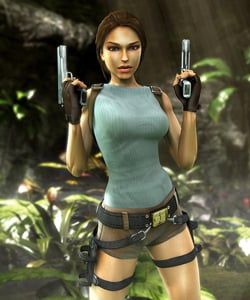 It's been quite awhile since we last heard about a Tomb Raider reboot. In fact, we reported on the announcement nine months ago. Since then, Producer Dan Lin has been pretty silent on the subject, though he was initially excited about the idea of rebooting a more character-driven Lara Croft series.
Unfortunately, judging by the actresses Warner Bros. has been courting for the new flick, 'character-driven' is the last thing we're going to get. According to iesb, the studio has already unsuccessfully approached two hot actresses to fill the shoes that Angelina Jolie has grown out of. The first, Megan Fox, a seemingly worthy successor to the Croft name, reportedly rejected the role for fear of continued comparisons to Jolie (since it's so awful to be compared to someone talented). Warner Bros. then offered the role to Twilight star Kristen Stewart. They were unable to secure her.
Now the last thing I would ever call myself is a drooling alpha male. But I think we all know that Lara Croft's main selling point is her busty physique (along with her evenly distributed tan). And while Megan Fox very obviously fits this mold, she's less an actress and more something to look at. It goes without saying that Kristen Stewart doesn't really fit any of the Croft characteristics other than, maybe, being a girl. So it seems as though Warner Bros. isn't really going to try to start up a "character-driven" Tomb Radier series but just another flashy, loud movie starring whichever big name, young actress is available at the moment.
Your Daily Blend of Entertainment News