Kristen Wiig Game For Ghostbusters 3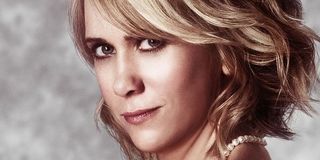 Bill Murray is not only in favor of a female-fronted Ghostbusters 3, he's thrown out some casting suggestions, including Melissa McCarthy, Emma Stone, Linda Cardellini, and Kristen Wiig. And now we know Wiig is willing.
Some have speculated that Wiig would be an obvious frontrunner for Ghostbusters 3 if Bridesmaids helmer Paul Feig does sign on to direct. Yet the former Saturday Night Live star is playing coy, saying "I guess they're making one from what I hear, which is pretty great." While promoting her new drama The Skeleton Twins, Kristen Wiig sat down with Yahoo, which asked the actress how she felt about being named as a successor to Ghostbuster proton-packs by Dr. Peter Venkman himself. "That's very flattering," she confessed.
Pressed on whether she would say yes if she was offered such a role, Kristen Wiig gave a clear-cut answer:
Yahoo reporter notes that Wiig's publicist warned this sentence would earn scads of attention, to which Wiig replied, "I know. That's why I said it."
She gets it.
While Dan Aykroyd has been pushing hard for years to get Bill Murray involved with Ghostbusters 3, the recent honoree of his very own day has resolutely rejected the offer. So, we really have no reason to suspect that Murray's comments about who he'd like to see in the third installment of the ghost-strewn comedy will have any bearing whatsoever on its production. However, many Ghostbusters fans are likely to look more kindly on a sequel that seems to have Murray's blessing. So Ghostbusters 3's makers would be well advised to consider Venkman's Murray's seemingly off-the-cuff suggestions.
After years of mixed messages, it's become increasingly difficult to discern what Aykroyd's Ghostbusters 3 will be about. So it's impossible to say if Melissa McCarthy, Emma Stone, Linda Cardellini, and Kristen Wiig would make sense in the presumed four lead roles. However, three of these actresses are smart choices from a financial standpoint.
Through her seasons on SNL, Wiig has won a lot of fans. Then in 2011, she translated her madcap sensibilities into one of the highest-grossing R-rated comedies of all time. And she got an Oscar nod for Best Screenplay to boot! Bonus: she's won increased critical acclaim for a string of dramatic turns in films like Hateship Loveship and The Skeleton Twins.
Casting Melissa McCarthy certainly seems a no-brainer. Not only was she the breakout star of Bridesmaids, but the fearless comedienne has proved a major box office draw. First she appeared opposite Jason Bateman in The Identity Thief, which took in $134 million domestic. The she co-fronted The Heat with Sandra Bullock, and that R-Rated laffer brought in $159 million. Lastly, she hit July with Tammy, an outlandish dramedy that earned critical scorn yet $84 million at the box office. Even when McCarthy stumbles, it means money. But reteaming her with her Bridesmaids/The Heat helmer Feig seems a sure-fire recipe for success.
Emma Stone can lure in younger audiences who may not have the same kind of nostalgia for Ghostbusters as older demographics. (Shocking, I know.) The sassy ingénue broke out with a small role in Superbad, and likely earned the Bill Murray seal of approval while they worked together on the horror-comedy Zombieland. But when she went solo in 2010 with the teen comedy Easy A, she proved to have box office pull all her own, raking in $58 million for the $8 mil flick. And that was before the world knew her as Amazing Spider-Man's Gwen Stacy.
Lastly we have Linda Cardellini, Murray's most surprising pick. She's not a name, but could prove a great pick. Though she might be best-known for dramatic roles on Mad Men and ER, Cardellini broke out in the Paul Feig-directed comedy series Freaks and Geeks. I know I said we have no way of knowing that Murray may have an inside line on who Feig might consider casting, but that's an interesting point of possible co-incidence isn't it?
Staff writer at CinemaBlend.
Your Daily Blend of Entertainment News
Thank you for signing up to CinemaBlend. You will receive a verification email shortly.
There was a problem. Please refresh the page and try again.