Kyle Chandler Joins Martin Scorsese's Wolf Of Wall Street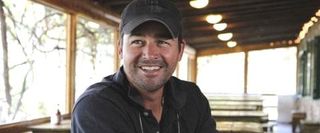 Kyle Chandler spent years motivating high school football players and getting TV viewers to swoon, playing the noble and relatable Coach Taylor on Friday Night Lights. But while he's beloved by fans of that series-- and finally earned an Emmy Award last fall after the show's final season-- he's only just now starting to get the movie roles that introduce him to a wider audience. He took the wholesome Coach Taylor thing to a new level in Super 8 last summer, he's set to join Ben Affleck and an enormous and great cast in Argo later this year, and with Kathryn Bigelow's Zero Dark Thirty coming up, he's adding another major film from another major director.
According to Deadline, Chandler has taken a role in Martin Scorsese's The Wolf of Wall Street, which already stars Leonardo DiCaprio as a banker who gets caught up in the high-flying world of Wall Street only to spend 22 months in prison for his trouble. Chandler, true to his clean-cut screen persona, will play the FBI agent who brings down DiCaprio's character. Jonah Hill is also on board, playing the guy who convinces DiCaprio's character to get into Wall Street to begin with.
Terrence Winter, the Boardwalk Empire creator who collaborated with Scorsese on that show's pilot episode, adapted the script from Jordan Belfort's own memoir. The whole thing sounds about as big a turnaround as you can imagine for Scorsese, who championed his expensive 3D film Hugo for months but now seems ready to return to the criminal-tinged underworlds that have marked so many of his films. Given all the talent Chandler has shown in his previous work, he should have no trouble fitting right in.
Staff Writer at CinemaBlend
Your Daily Blend of Entertainment News
Thank you for signing up to CinemaBlend. You will receive a verification email shortly.
There was a problem. Please refresh the page and try again.