Law & Order's Christopher Meloni Joins Poehler And Rudd In They Came Together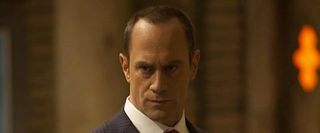 Those of us who watch NBC's Parks and Recreation know that the series regularly strikes gold with regards to the chemistry of its cast, and that includes newcomer Paul Rudd, whose portrayal of the wealthy but slow-witted Bobby Newport clashed hilariously with Amy Poehler's Leslie Knope. Rudd and Poehler clicked comedically in Parks and Rec, and that chemistry may serve them well when the two star opposite one another in David Wain's upcoming comedy They Came Together, a film brimming with talent among its cast, which has recently added one more notable name.
The Hollywood Reporter shared the news that Christopher Meloni has joined the cast of They Came Together, a film described as a "romantic comedy spoof." Not only will the film reunite Poehler and Rudd, but it'll also reunite Rudd with Role Models and Wanderlust director David Wain, who in addition to directing the film, is also credited for co-writing it with Michael Showalter. The Lionsgate comedy will star Rudd and Poehler as two people who dislike each other, as Rudd's character's company aims to get Poehler's candle store shut down. (I'm already having a You've Got Mail flashback, which might not be that far off when factoring in the "spoof" part of the film's description). Meloni has been cast to play Rudd's boss and the CEO of CorporateCo Corporation and Co. Inc.
While he's played a number of roles on the big and small screen, Meloni is likely best known for playing Detective Elliot Stabler in the long-running Law & Order: SVU. However, more recently he's popped in a set of fangs for the current season of HBO's True Blood. They Came Together's cast is actually full of people who've played notable TV roles. In addition to Rudd and Poehler, Ed Helms (The Office, The Daily Show), Cobie Smulders (How I Met Your Mother) and Jason Mantzoukas (The League) are also set to appear in the comedy.