Learn The History Of San Diego Comic-Con In Just 4 Minutes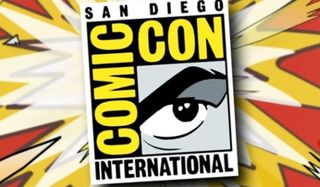 How did a basement event with 300 people sprawl to a sold out spectacular that dominates pop culture conversation across television and the internet for a solid week each summer? That's precisely the question the video above answers while giving us a look back at the history and earliest days of San Diego Comic-Con.
Watching the Movie Clips video, you'll learn San Diego Comic-Con's start came in 1970 when comic-strip letterer/artist Shel Dorf, comic store owner Richard Alf, and publisher Ken Krueger decided to organize a three-day celebration of comics called San Diego's Golden State Comic-Con. For the inaugural event of what would become a fan-fueled phenomenon, the trio had secured legendary science fiction writer Ray Bradbury and Captain America co-creator Jack Kirby. So not too shabby a start!
With panels, a dealers room (for comic books) and screenings, San Diego's Golden State Comic-Con was a rough sketch of what would become a model for all future cons all over the world. Three years later, the name was slimmed down to San Diego Comic-Con, and by 1974 cosplay became a major part of the event thanks to its first ever masquerade/parade/contest.
The introduction of film promotion at SDCC is credited to Star Wars, which debuted a slide show of some of its stills way ahead of release - and to mixed reception from the crowd. Comic-Con continued to grow demanding bigger and bigger convention centers to host the event. The San Diego Convention Center, which Comic-Con currently calls home, now sees more than 130,000 guests during the event's run. This has spurred expansions, like the notorious Hall H, where more than 6,500 people can be seated to see presentations from major studios. This included Loki's live appearance, which you can relive below:
Loki's not lying. People line up for hours and sometimes literal days to get a seat in this coveted hall of fandom. But The San Diego Convention Center isn't done. For the past four years, Comic-Con's tickets have sold out on the first day of sales. The huge crowds pour $180 million annually into the local economy. This has inspired further expansion, both with the four-day event spilling out into the streets, hotels, bars and beyond - but also with a massive new addition to the convention center that will cost San Diego $520 million. But with Hollywood investing so much promotion into Comic-Con, it's expected the crowds will continue to grow, and with it so will the financial security of San Diego.
For more about how Comic-Con has grown, check out an interesting video history of the superhero movie on the next page.
Your Daily Blend of Entertainment News
Staff writer at CinemaBlend.