At Least One 2015 Oscar Musical Number Is Going To Be Awesome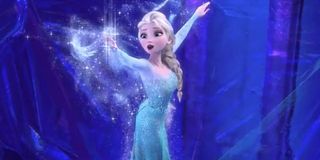 Part of the what makes the Oscars ceremony so spectacular are the elaborate musical numbers. And if Neil Patrick Harris has anything to do with it, it won't simply be something as misogynistic or toilet humor-y as Seth MacFarlane's "We Saw Your Boobs." He'll be sure to add some of his class and Broadway flair to the mix. However, a new development has emerged that will make you even more excited to see the multi-talented, Tony-winning, Golden Globe-nominated actor hit the stage.
Have you ever heard the names Robert Lopez and Kristen Anderson-Lopez? No? It's ok. They only wrote one of the catchiest songs of all time - the song you and your Disney-loving kids have been humming to yourselves since 2013. They're only the magical duo who made us all want to "Let It Go." The Academy announced this morning that the married duo who wrote the music for Frozen has been enlisted to write a special musical number for Harris when he takes the stage on February 22 as this year's Oscars host. The actor revealed the news to his Twitter followers shortly before the main announcement with a special video exclusive.
If you aren't overflowing with excitement right now, you should be. For one, Robert Lopez is one of the few in this world who have EGOT-ed: he shared an Oscar and a Golden Globe with his wife for Frozen, he won multiple Grammys and Tonys for his work on The Book of Mormon, and he has a couple of Daytime Emmys under his belt for The Wonder Pets. And two, when the duo took to the Oscar's stage to accept their Frozen honor, they performed a little rhyming number that one can imagine them throwing together on their way to the ceremony. Just think of what they can do with Mr. Neil Patrick Harris.
While we don't know who will be performing alongside Harris in this mystery number, we do know there will be multiple guests. Oscars producers Craig Zadan and Neil Meron said as much in a statement accompanying the announcement. We're assuming it'll be more Hugh Jackman than Seth MacFarlane. Harris has similar Broadway training to the X-Men star — he was seen on stage last year in Hedwig and the Angry Inch. Plus, he's already handled intricate opening performances as host of the Tonys. After putting on such theatrics for hundreds of critical Broadway performances and industry peeps, we have every confidence in the man to pull out all the stops for Hollywood's big night.
Your Daily Blend of Entertainment News
Thank you for signing up to CinemaBlend. You will receive a verification email shortly.
There was a problem. Please refresh the page and try again.