Leatherface, Michael Myers, And Jason Team Up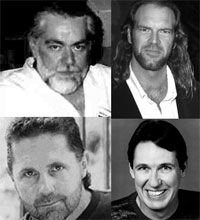 Michael Myers, Jason, and Leatherface are all teaming up for one big horror movie. Well at least the guys that play them are. Gunnar Hanson (Leatherface), Tyler Mane (Michael Myers), Kane Hodder (Jason), and Edwin Neal (Hitchhiker from TCM) are all set to be in a new horror flick together. It's called The Forest and it's produced by the Salkinds. You know, the guys that screwed up Richard Donner's work on Superman II. Donner really hates them, but when was the last time Richard Donner made a decent movie?
Tom Savini, FX guru on such classics as the 1978 version of Dawn of the Dead is set to direct with Bill Mosely co-producing. The plot is typical horror stuff. Dumb college kids head out into the woods to cement pledges and end up being terrorized by something out there. We don't have any details on what roles Hanson, Mane, Hodder, and Neal will play in the film but you can bet they won't be friendly.
Your Daily Blend of Entertainment News
Thank you for signing up to CinemaBlend. You will receive a verification email shortly.
There was a problem. Please refresh the page and try again.