Legendary Pictures Trades Batman Vs. Superman For A Piece Of Christopher Nolan's Interstellar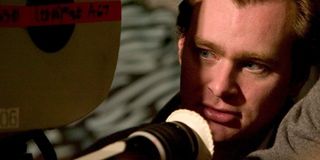 It would appear as though the folks over at Legendary Pictures believes that the name "Christopher Nolan" is potentially more valuable than the combined forces of the Dark Knight and the Man of Steel. The Wrap has learned that the studio has decided to sacrifice their contractual connection to Zack Snyder's upcoming Batman vs. Superman movie in order to get a hefty share of Nolan's Interstellar, which is already being co-produced by Paramount Pictures and Warner Bros.
This news comes on the heels of the split between Legendary and Warner Bros., the studios ending their eight year relationship back in late June. A couple weeks later it was reported that the smaller production company had signed a new contract with Universal Pictures that will see the two companies working together on upcoming blockbusters. That said, Legendary and WB will still be associated through 2014, as, in addition to Interstellar, they are also part of Sergei Bodrov's Seventh Son, Noam Murro's 300: Rise of an Empire, Gareth Edwards' Godzilla, and Michael Mann's Cyber. This is just speculation, but perhaps they didn't want to stretch out their relationship all the way to 2015 when Batman vs. Superman is going to be released.
Legendary Pictures and Nolan have actually been working together for years now, having first started collaborating on Batman Begins (which also happened to be Legendary's first movie). Since then they have reunited for The Dark Knight, Inception and The Dark Knight Rises - which is to say every movie that Nolan has made since with the exception of The Prestige. It would seem that the studio isn't worried about losing their connection to WB, but they don't seem to be eager to cut ties with one of the most popular filmmakers in Hollywood just yet.
Interstellar just began production earlier this week and has an absolutely ridiculous all star cast that includes names like Matthew McConaughey, Anne Hathaway, Jessica Chastain, John Lithgow, Casey Affleck, Wes Bentley, Topher Grace, David Oyelowo, Ellen Burstyn, Michael Caine and more. Based on the work of CalTech physicist Kip Thorne (who is also working as a consultant on the film as well as an executive producer), the movie is about a group of explorers who discover a wormhole that could completely change the future of human space flight and interstellar travel. Jonathan Nolan, Christopher' brother, wrote the original draft of the screenplay, and when Christopher Nolan came on-board to direct he merged his brother's script with an existing idea that he had. Like both The Dark Knight and The Dark Knight Rises, the director will be filming certain sequences of the movie with IMAX cameras, ensuring the biggest blockbuster experience possible. Warner Bros. and Paramount will release the movie in theaters nationwide on November 7, 2014, and hopefully we'll be lucky enough to get our first sneak peek at the movie before the end of the year.
NJ native who calls LA home; lives in a Dreamatorium. A decade-plus CinemaBlend veteran; endlessly enthusiastic about the career he's dreamt of since seventh grade.
Your Daily Blend of Entertainment News
Thank you for signing up to CinemaBlend. You will receive a verification email shortly.
There was a problem. Please refresh the page and try again.