Leonardo DiCaprio's New Movie The Revenant Blasted Over Unsafe Working Contitions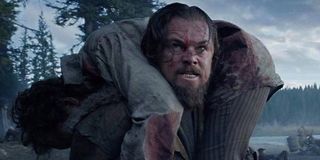 With a cast including Leonardo DiCaprio, Tom Hardy, and Domhnall Gleeson, and Birdman director Alejandro González Iñárritu at the helm, The Revenant was already one of the most anticipated films of 2015. And then that trailer, damn. The movie looks intense and harrowing, which may have carried over to the set as union reps are blasting the production over safety concerns.
Set in the American frontier of the 19th century and filming in the viciously cold Canadian wilderness, there are claims that Iñárritu and The Revenant pushed the boundaries of safety in order to get the "perfect shot." Talking to The Hollywood Reporter, local union rep Damien Petti, president of IATST local 212, said:
Petti's statement comes as a reaction to claims by union crewmembers working on the set of The Revenant that, when they voiced their concerns over the safety of all involved, they were not taken seriously and dismissed. One even reportedly called conditions on the set a "living hell," and 15 to 20 members of the crew were either fired or quit over the situation.
Film lore is replete with tales filmmakers, actors, and entire productions going to extreme lengths to get a movie just perfect, including putting themselves in harm's way. This is the stuff of legend in Hollywood, but it is something that Petti cautions against. He added:
Since the vast majority of us weren't actually on the Canadian set of The Revenant, this is turning into a he said, she said situation. Production company New Regency responded to the allegations by releasing this official statement:
As with most situations like this, there is very likely truth to both sides of the story, but it does raise questions about the lengths some people in the industry are willing to in order to make a movie precisely how they want it (Tom Cruise repeatedly strapping himself to the outside of an airplane in Mission: Impossible—Rogue Nation anyone?), and is it worth the risk? There are bound to be some people more willing to push the boundaries to get the perfect shot. It's easy to imagine a driven filmmaker like Iñárritu more enthusiastic and prepared to forge ahead in adverse conditions than someone who is just doing their job on a movie set.
This is just one of many issues The Revenant has experience during production. There have been budget overruns, producers have left, and thanks to inclement weather, they still don't have the final scene in the can. There are four more days of shooting scheduled at the very tail end of Argentina, as close to Antarctica as you can get without actually being in Antarctica, so they can get the snowy conditions they need.
We'll be able to see The Revenant for ourselves later this year when it opens on December 25.
Your Daily Blend of Entertainment News
Your Daily Blend of Entertainment News
Thank you for signing up to CinemaBlend. You will receive a verification email shortly.
There was a problem. Please refresh the page and try again.