How Global Warming Stopped The Revenant From Filming Its Final Scene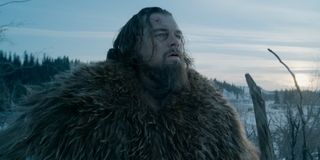 The first trailer for The Revenant only recently hit the web, and it's already one of the most highly anticipated films of the year. As it turns out, Leonardo DiCaprio's trials in the wilderness are not over. Oscar-winning director Alejandro G. Iñárritu ran into some issues with forces beyond his control — something called global warming — and they have to head back out into Mother Nature to finish filming.
The Revenant tells the tale of an explorer named Hugh Glass (DiCaprio), who is left for dead in the snowy landscape of the American wilderness and betrayed by his closest confidante. It's a story of survival, and to maintain these intense stakes Iñárritu needed snow. Apparently, though, snow was not in abundance. In an interview with Grantland, the director said:
Iñárritu is preparing to take things to the South Pole, where this issue is less likely to happen. With only this one final scene left to capture, the shoot will take about six-to-seven days and hopefully happen at the end of this month. It doesn't even matter that the release date is looming on the horizon.
The Revenant also stars Tom Hardy (Legend), Domhnall Gleeson (Star Wars: The Force Awakens), and Will Poulter (We're the Millers), but this is all about DiCaprio. The actor, now 40, has been nominated for five Oscars — What's Eating Gilbert Grape, The Aviator, Blood Diamond, and he shared the Best Picture nom for The Wolf of Wall Street on top of his Best Actor nod — but he's never taken home that golden statuette. Could The Revenant change all that? Watch the trailer below and check out the intense first footage.
Other films already earning some pre-awards buzz are The Danish Girl with Eddie Redmayne, Macbeth with Michael Fassbender, Southpaw with Jake Gyllenhaal, and The End of the Tour with Jason Segel. But Iñárritu's name alone already has us perking up. Birdman was all the rage during the last awards season. Though it stumbled a bit against Boyhood at the Golden Globes, the film earned Best Director and Best Picture at the Oscars. Hopefully he's the chosen one to end DiCaprio's vicious and disappointing cycle of "always the bridesmaid, never the bride."
The Revenant hits theaters on December 25.
Your Daily Blend of Entertainment News