Liam Neeson Playing Another Vital Political Figure On Screen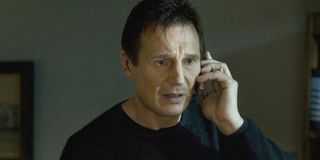 Is Liam Neeson making a return to serious, award-contending roles? It certainly seems that way. Because the Academy Award-nominated actor has signed up to star as the legendary Watergate informant Deep Throat in Peter Landesman's historical spy thriller Felt.
Liam Neeson might have just had his fill of being an action hero, and while it hasn't been confirmed that he's signed on officially to portray Mark Felt, according to Deadline, he's in final discussions to take the role.
In 2005, Felt revealed himself to be the Watergate source known to legendary journalists Bob Woodward and Carl Bernstein as Deep Throat. Over the previous three decades, Deep Throat's identity remained unknown and was a subject of much curiosity across the world. With the revelation that Felt was the whistle blower who helped to uncover one of the greatest and most damaging political scandals in the history of the United States Of America, people soon began to delve into the FBI special agent's life to learn of the repercussions that came about because he stepped forward.
And it turns out that there were quite a few, all of which Felt will explore. Mark Felt's professional and personal life was damaged in order to assist The Washington Post journalists Bob Woodward and Carl Bernstein in their quest, which resulted in Felt sacrificing his career, family, and even his freedom, all to preserve justice.
Clearly that's heavy, heavy stuff, which is why it is ripe for cinematic adaptation. No wonder then that Liam Neeson sees it as the perfect role to remind everyone that he's actually a rather talented actor, not just a badass with a special set of skills.
Neeson has had no problems bringing iconic characters to life in the past. In fact, since he made his film debut as Jesus Christ in Ken Anderson's Pilgrim's Progress back in 1978, he has portrayed Oskar Schindler (Schindler's List), Rob Roy (Rob Roy), Michael Collins (Michael Collins), Jean Valijean (Les Miserables), Aslan (The Chronicles Of Narnia: The Lion, the Witch, and the Wardrobe), and Zeus (Clash Of The Titans). Plus, he also found time to play The A-Team's John "Hannibal" Smith, Batman Begins' Ra's al Ghul, and Kinsey's Alfred Kinsey.
Liam Neeson was talked into portraying Mark Felt by Peter Landesman, the writer and director of Parkland, which depicted the chaotic events just after the assassination of John F. Kennedy, and who also recently finished work on the eagerly anticipated Concussion.
Felt is due to begin filming in March 2016, and with Liam Neeson now on board we can expect further casting information to be released in the next few weeks. It will make a nice turn of pace for Neeson, who in 2015 popped up in the regrettable pair Taken 3 and Run All Night, as well as the equally fogettable comedies Entourage and Ted 2.
Your Daily Blend of Entertainment News
Thank you for signing up to CinemaBlend. You will receive a verification email shortly.
There was a problem. Please refresh the page and try again.