Lindsay Lohan Topless And Skinny Dipping With Her Mom For Machete?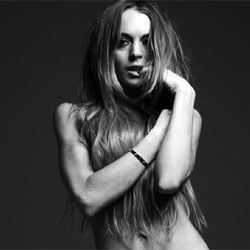 As much as Lindsay Lohan appaers to be drunk or high, or whatever it is that she's doing stumbling around on the front pages of every tabloid on a weekly basis, it's kind of amazing that she isn't naked twenty-four hours a day. Though she's done a couple of magazine shoots, it seems Lindsay has saved her cinematic nipples for Robert Rodriguez because according to Hollywood Life she'll be topless in Machete.
But wait, there's more! The movie will also feature a scene in which her character, April Benz, goes skinny dipping with her Mom (being played by Alicia Rachel Marek). That same scene actually happens in the Machete Grindhouse trailer, though of course with a different red-headed actress playing Lohan's character. Play the trailer below and you'll see it at around the 1:40 mark. Warning: Definitely Not Safe For Work.
The really good news here, beyond the fact that Lindsay wants to show you even more of her freckles, is that it sounds like Machete is well on its way to being the hard-R movie it ought to be. Rodriguez is steering this thing in the right direction.
Update! You can get a glimpse of Lindsay Lohan's topless threesome scene with Machete in our detailed breakdown of the final red band trailer right here.
Your Daily Blend of Entertainment News