Lizzy Caplan Continues The Funny In Queens Of Country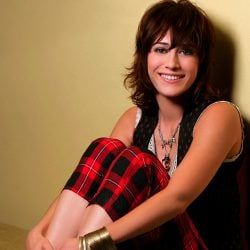 I know Lizzy Caplan has a good acting career going and is in reality a stone cold fox, but for me she'll always be Janis Ian, the reject loner who shows Cady the ropes and is eventually betrayed in Mean Girls. Not only is it the best movie she or anyone in the movie has ever been in, but Caplan is hilarious in it, and it has made me want to be her best friend for life.
Right now Caplan is showing off her comedy chops on Party Down on Starz, but a lead movie role has come her way to give her even more of the limelight. Production Weekly reports that Caplan will star in Queens of Country, a comedy directed by Ryan Page & Chris Pomerenke that, according to details dug up by The Playlist, will star Caplan as a young woman obsessed with female country stars like Loretta Lynn, Dolly Parton and Tammy Wynette. But don't go expecting a female Crazy Heart, because the plot sounds a lot more like a romantic comedy-- Caplan's character finds an iPod full of songs by those artists, and tries to track down the owner.
I'm not sure why the character is so convinced the iPod owner is her one true love--couldn't it just as easily be a woman, or if this isn't a heteronormative romantic comedy, a man? But whatever. More Caplan equals more fun as far as I'm concerned.
Your Daily Blend of Entertainment News
Staff Writer at CinemaBlend