The Lone Ranger Finally Goes Into Production Out West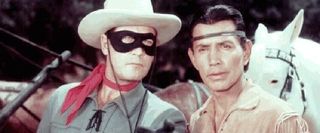 After what seemed like a thousand false starts, but what was really just one big one, Disney's enormous Lone Ranger is finally going into production, according to a press release sent wide today. We figured this was coming, of course, with the announcement that WIlliam Fichtner had signed on to replace Dwight Yoakam in one of the villainous roles, and of course the looming May 2013 release date, which Disney held on to even after production was bumped back. But now the cameras are officially rolling, and in no lack of locations either-- the release cites location shoots in New Mexico, Arizona, Utah and Colorado, which suggests that the Ranger and trusty Tonto will be running all over the desert in the course of their adventures.
Johnny Depp is the big name star of the film, reuniting with his Pirates director Gore Verbinski, but the title character is played by Armie Hammer, making a real push for leading-man stardom that will hopefully be boosted by his role in the upcoming Mirror Mirror. The release came with a plot synopsis that finally gives us a sense of how the story will happen, and explains how Depp's Tonto may wind up being the main character after all:
The Lone Ranger's cast is rounded out with a lot of character actors you'll be happy to see in pretty much anything-- in addition to Fichtner there's lead villain Tom Wilkinson, plus Barry Pepper, James Badge Dale, Ruth Wilson and Helena Bonham Carter. WIth everything finally shooting, the movie seems like it really will make the release date of May 31, 2013-- kicking off the summer in the company of the next Fast and Furious movie, the Star Trek sequel, Guillermo del Toro's Pacific Rim, and Iron Man 3, all of them also set for May releases.
Staff Writer at CinemaBlend
Your Daily Blend of Entertainment News
Thank you for signing up to CinemaBlend. You will receive a verification email shortly.
There was a problem. Please refresh the page and try again.