Louis C.K. Releasing His First Movie On His Website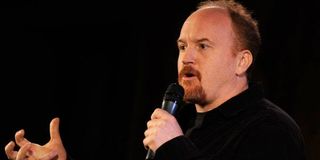 There's no question that Louis C.K. is a comedy lifer. He's been around forever, doing stand-up, touring, working on talk show writing staffs, and gravitating between television and film. In that time, he's become less of a joke-maker and more of a multimedia sensation, and right now he's high off the success of FX's groundbreaking Louie and prominent parts in David O. Russell's American Hustle and Woody Allen's Blue Jasmine. But like many comedians, his beginnings were fairly humble. Unlike many comedians, he's ready to share that with audiences.
Louis C.K.'s first film was Tomorrow Night, which emerged from his various shorts and comedic routines. The film is a no-budget absurdist story about a lonely man's relationship with an elderly woman, and while it played at Sundance in 1998, a distributor never stepped up to release the film. It certainly carries some interest today, given that the names involved in the film include J.B. Smoove, Amy Poehler, Nick DiPaulo, Rick Shapiro, Robert Smigel, Steve Carell, Todd Barry, Matt Besser, Matt Walsh, Wanda Sykes and Ian Roberts. That's basically some of the top comedians in the world as well as the entire television lineup of Upright Citizens Brigade.
Speaking to Jay Leno on the Tonight Show last night (via Vulture), Louis C.K. revealed that funding for the film came together thanks to the generosity of others. Jon Stewart, Chris Rock, Denis Leary, Brett Butler and Spike Feresten, all comedy lifers themselves, contributed healthy amounts to the making of the film. What's touching is that this was the late nineties, where these comedians were successful, but none were the household names they are today (Spike Feresten is totally a household name, right?). Louis C.K. would direct one more film, Pootie Tang, which was not entirely well-received, but it's got some funny bits and, hey, it got released.
Now that he's achieved a certain level of success, Tomorrow Night is hitting Louis C.K.'s website, where you can purchase it for yourself for only $5. Pretty sweet deal: the trailer makes Tomorrow Night look like a moody, impressionistic look at New York City similar to another forgotten NYC-set indie gem, The Search For One-Eye Jimmy, which featured early work from the likes of Samuel L. Jackson, Steve Buscemi and John Turturro. Catch the trailers to Tomorrow Night and Pootie Tang below.
Your Daily Blend of Entertainment News
Thank you for signing up to CinemaBlend. You will receive a verification email shortly.
There was a problem. Please refresh the page and try again.