Mad Max: Fury Road Finally Starting Production Next Spring In Namibia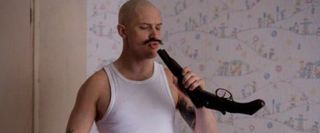 George Miller has spent years talking about the possibility of another Mad Max movie, but given the way his Justice League movie fell apart and then the planned Mad Max: Fury Road was delayed several times, it seemed like Miller might be stuck just making Happy Feet sequels for the rest of time. But, lo and behold, Mad Max may have life in him yet; Tom Hardy, set to take over the role of Max from Mel Gibson, told The Daily Beast he's going to start training for the film in March, and now Bleeding Cool has some photos of the cars to be used in the film, on their way to Sydney where they will be shipped to Namibia for shooting.
Wait, Namibia? The original Mad Max films are like anti-advertisements for the rough Australian outback, and it seems inconceivable that proud Aussie George Miller would be willing to ship the production overseas. But apparently funky weather conditions have given the desert-like outback way too much greenery to fit the bill, so off to Namibia they go. Production won't be setting up there until the spring, but in the meantime, you can check out the cars that are on their way there.
WIth Tom Hardy committed to play Max, and Charlize Theron presumably still on board as a one-armed warrior woman, Mad Max: Fury Road is still looking promising, and even more commercially viable given Hardy's recent fame. If the damn thing ever manages to start shooting, it'll be Miller's first live-action movie since 1998's Babe: Pig in the City. Here's hoping it's worth the wait.
Staff Writer at CinemaBlend
Your Daily Blend of Entertainment News
Thank you for signing up to CinemaBlend. You will receive a verification email shortly.
There was a problem. Please refresh the page and try again.