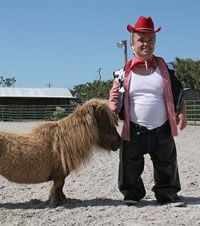 The boys of Jackass are ready to move on without their leader Johnny Knoxville. While Knoxville is living it up in Hollywood and sleeping with celebrity starlets Chris Pontius, Steve-O, Preston Lacy, and Wee Man will be working on a new comedy with Madonna.
The Hollywood Reporter says the movie is called Hosed and it is not another collection of stunts. Instead, it's a full-on, scripted, feature film comedy about a group of overly eager volunteer firefighters assigned to work with a band of misfit, loser firefighters from the wrong side of the tracks. I bet at least one of those misfit firefighters will at some point hit himself in the crotch.
Just Friends screenwriter Adam Davis is working on the script and Madonna's Maverick Films shingle is producing Hosed for HBO Films. Somehow I doubt you'll see Madonna anywhere near the set, though it might be funny if she were somehow to become an honorary Jackass. She and the Jackass crew have a lot of common, after all she's built her empire on pulling crazy, offensive stunts. Maybe she hasn't shoved a beer bong up her butt, but she's done plenty of offending. Come on Wee Man, see if Madonna will let you ride her piggyback!
Your Daily Blend of Entertainment News
Thank you for signing up to CinemaBlend. You will receive a verification email shortly.
There was a problem. Please refresh the page and try again.