Magic Mike Dominates Ted In Online Ticket Sales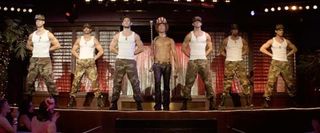 As you might have heard in some of the early reviews, Magic Mike isn't entirely the glitter-coated male stripper romp being promised in the previews-- it's got plenty of stripping, yes, but also a real and sometimes sad story about the toll that kind of life takes, and what happens when you have to decide it's time to move on and grow up. The movie is pretty terrific overall, though, and the stripping scenes should more than satisfy the people who show up hoping for a bachelorette party-style atmosphere, then get a more grounded and interesting movie as a bonus for their tickets.
And based on sales so far, a lot of people out there are already holding their tickets. Fandango informed us today that Magic Mike accounts for 53% of all advance ticket sales for this weekend as of today, slightly ahead of Brave (at 31%) and way, way ahead of the Mark Wahlberg comedy Ted, which makes up just 4% of sales. Ted and Magic Mike both expected to do well this weekend, but the Times speculates that Magic Mike's huge advance sales numbers might be because women are planning to see the film in a big group-- as some of the ads have suggested, "tell your boyfriend you're going to book club."
I'll be really interested to see what kind of CinemaScore Magic Mike gets, if the people who expect a silly romp will be turned off by the heavier drama, or if they'll be engaged enough by Channing Tatum's performance and the awesome supporting cast to go along for the ride. My review of Magic Mike will be up later today, so you can read more about how much I loved it. In the meantime, let us know in the comments if you're one of those people already clutching tickets to this weekend's showings.
Staff Writer at CinemaBlend