The Main Reasons Audiences Aren't Thrilled With The Screening Room, According To A New Survey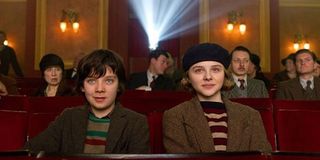 No longer silent, colorless means of telling a story, movies have become loud, bombastic visual spectacles over the last century. However, the actual experience of going to the movies has remained relatively unchanged since the innovation of movie theaters. The creative minds behind The Screening Room see room for a change, and want to alter the way in which we take in movies by bringing new releases to your living room for a hefty fee. Only one question remains: are average people willing to sign on for such a service? As it turns out, most people don't seem thrilled about the idea of shelling $150 for Screening Room hardware, and $50 for a movie. They like going to the movies.
A new report from THR cites a recent study conducted by MarketCast which seems to indicate that a system such as Screening Room still has quite a way to go before it can gain any sort of traction with mainstream audiences. Although around one quarter of those polled in the study indicated that they had some sort of interest in utilizing Screening Room (or an equivalent service) an overwhelming majority remained steadfast in their refusal to sign on.
Most of the respondents cited the overall cost of the service, as well as the cumbersome nature of having yet another piece of technology added to their existing home entertainment setup. Additionally, around half of the survey's respondents admitted that they still very much enjoy the experience of going to the movie theaters to consume their films.
If The Screening Room ever caught on, it would fundamentally change the way many people view movies. For a setup fee of $150, you can have a box rigged up to your TV that would allow for streaming of brand new theatrical releases – which would subsequently cost $50 a pop. The argument for the system seems to be that it would actually encourage more film consumption, as $50 is still fundamentally cheaper than what it would cost to take a family of four to a local multiplex.
The research conducted by MarketCast also seems to run counter to many of the arguments posed by Screening Room's proponents. While men like Sean Parker have claimed that Screening Room will not replace current movie going habits, roughly one quarter of those polled in the survey admitted that use of a system like Screening Room would supplant their theatrical attendance if they were to sign on. That's not exactly promising data for those with stake in the theater business.
In this early stage of the program's existence, there's still a long way to go before we see any substantial progress made on Screening Room. It's an intriguing concept that has clearly divided moviegoers as well as members of the Hollywood community. Where do you stand on this issue? Would you be willing to sign up for Screening Room, or do you like to go to the movies in order to properly enjoy a piece of cinema?
Originally from Connecticut, Conner grew up in San Diego and graduated from Chapman University in 2014. He now lives in Los Angeles working in and around the entertainment industry and can mostly be found binging horror movies and chugging coffee.
Your Daily Blend of Entertainment News
Thank you for signing up to CinemaBlend. You will receive a verification email shortly.
There was a problem. Please refresh the page and try again.