How The Screening Room Program Actually Helps Theaters, According To A Close Source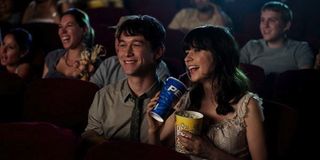 Film distribution may soon change forever; whether or not that's a good thing remains to be seen. Napster founder Sean Parker recently rolled out a new film distribution model called Screening Room, which proposes simultaneous home and theatrical film releases as the new norm. The issue has drawn a definitive line in the sand, with some people condemning the proposal, and others praising it. However, a new source close to the project has come out and said that the Screening Room method will actually help theaters in the long run.
According to a report from The Wrap, the new Screening Room method will benefit theaters because of the way pricing is broken down. The $50 rental for a given movie will include two tickets to the film in theaters, and a $20 kickback. To buy into the system, users will simply need to put down a $150 upfront cost for the necessary hardware. Although $50 for a movie may seem like an incredible sum of money, one must remember that it's likely cheaper than the cost for a family of four to actually go to the theaters when tickets and concessions are factored into the equation, so consumers financially benefit as well.
A major proponent of Screening Room recently spoke to The Wrap and explained how this will ultimately help all parties profit from the new system:
Essentially, the theory behind this method suggests that Screening Room will allow studios, distributors, and theaters to profit from this new method because Screening Room will cut more into piracy than it will into actual theater attendance. The mission of the service seems to be to get people who already wouldn't go to the theater to actually still pay for their movie going experience, rather than to deter anyone from going to their local Cineplex.
We're really in uncharted waters with Screening Room. Some people think it's the future of the film industry, while others have put their foot down against it because they think it could lead to the end of theatrical distribution. What do you think? Is Screening Room the future of the way we watch movies, or the death rattle? Let us know what you think in the comments below to keep the conversation going. We will bring you all of the latest and greatest news related to Screening Room as it becomes available to us; stay tuned for more details!
Originally from Connecticut, Conner grew up in San Diego and graduated from Chapman University in 2014. He now lives in Los Angeles working in and around the entertainment industry and can mostly be found binging horror movies and chugging coffee.
Your Daily Blend of Entertainment News
Thank you for signing up to CinemaBlend. You will receive a verification email shortly.
There was a problem. Please refresh the page and try again.