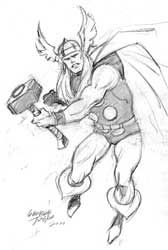 Marvel has become the giant question mark of the movie industry – odd, since I don't remember that being the symbol for any of their characters. They've found success with several comic to film adaptations such as Spider-Man and X-Men, mediocre results for films like Fantastic Four, and then there's The Punishers and Elektras of the world.
That range of success and failure isn't stopping them from bringing more of their second tier heroes to the big screen. Now entering the beginning phases of pre-production according to Variety today: Captain America has been given to David Self (Road to Perdition) to pen, and the previously bandied about Nick Fury is finding a scribe in the form of Andrew Marlowe (Hollow Man). There's no word as to the form either of these heroes will take – their classic version or the more recent "Ultimate" form. Interestingly, Cap and Fury have seen movie adaptations before, both of which were clunkers. Obviously Avi Arad thinks some good can still come from the characters though.
Also returning to the big screen, the much talked about Hulk sequel now has a writer. Zak Penn, who has done wonderful things with the X-Men movies, will be penning a follow up movie to the 2003 Eric Bana flick, although since Bana has recently denied involvement with a sequel I'm guessing he won't be back. Still, Penn has a good chance of making a script that could work.
Coming to the big screen for the first time: Thor, straight from Valhalla, who will be written by Mark Protosevich (Poseidon). Although the character previously appeared in one of the Incredible Hulk telemovies, this will be his first outing on his own. Verily, say I.
Finally comes Marvel's littlest hero: Ant Man who is being handed over to Shaun of the Dead's Edgar Wright who will direct the film that he is also writing along with Joe Cornish. The plan is to add a comedic element to the hero. That's a shame for old Hank Pym. He just finally got some credibility in that Ultimate Avengers Movie and now he'll be made the subject of that good old dry British wit. Still, if you're going to hand over comedy to someone, Wright is one of the best. Here's hoping they keep Pym's wife in the picture. If James Bond can get away with "I thought Christmas only comes once a year," imagine the Ant/Wasp jokes we might get.
On the heels of the Favreau news, it seems like Marvel is putting a lot of projects out all at once. However none of these scripts have been promised production dates yet; all that's been announced are writers. I'm guessing Marvel's plan is to see what comes from all the lines they're tossing out and will produce the best. At least that's what I'm hoping; otherwise expect to see at least one or two of these as potential direct-to-video fodder.
Your Daily Blend of Entertainment News